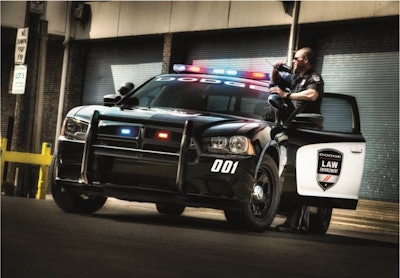 Chrysler will add all-wheel drive to its Dodge Charger Pursuit for the 2014 model year in response to feedback from law enforcement advisors, the company has announced.
The new drivetrain will be added to the Charger powered by a 5.7-liter HEMI V-8 engine. Chrysler will also offer a rear-wheel Charger powered by a 3.6-liter V-6.
The all-wheel drive Charger will feature an active transfer case and front-axle-disconnect system that better balances performance and fuel economy, according to Chrysler. The automaker has begun testing the vehicle.
On Wednesday, the Michigan State Police began testing four 2013 model-year Chargers—rear-wheel V-6 and V-8 vehicles with two rear-axle ratios each.
The vehicles are rated at up to 25 mpg highway and include a four-cylinder mode "fuel saver" technology, according to Chrysler. The vehicle is manufactured in Ontario, Canada.
Related: