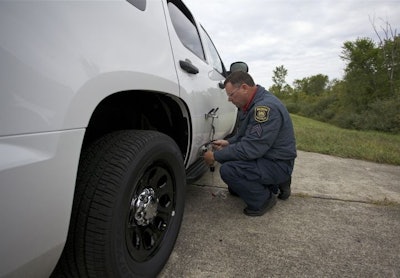 The Michigan State Police will test 19 law enforcement vehicles later this month slated for release by automotive and motorcycle manufacturers for the 2013 model year.
In all, the M.S.P. Precision Driving Unit will test 12 four-wheel patrol vehicles and seven motorcycles. Troopers will evaluate one new vehicle, Honda's ST1300P motorcycle, along with models tested a year ago. Kawasaki's Concours 14P motorcycle won't be tested.
Ford brings three versions of its Police Interceptor sedan. The new P.I. is available in front-wheel and all-wheel drive with a 3.5-liter V-6. The twin-turbo all-wheel-drive sedan will also be tested. Troopers will also evaluate Ford's P.I. Utility with all-wheel drive and a 3.7-liter V-6.
General Motors will bring four vehicles—the rear-wheel drive Chevy Caprice PPV with a 3.6-liter V-6 and 6.0-liter V-8; front-wheel drive Chevy Impala with 3.6-liter V-6; and pursuit-rated rear-wheel drive Chevy Tahoe with 5.3-liter, V-8.
Chrysler will bring four Dodge Charger Pursuit sedans with two powertrains and two rear-axle ratios. The first Charger is powered with a 3.6-liter V-6 and is offered in 2.65 and 3.07 rear-axle ratios. The second Charger is powered with a 5.7-liter V-8 and is offered in 2.65 and 3.06 rear-axle ratios.
This year, the unit elected to discontinue its testing of E85-fuel vehicles, because the results were fairly similar to regular gasoline, Sgt. Matt Rogers told POLICE Magazine.
Six motorcycles return from a year ago: BMW's R1200 RTP; Harley-Davidson's FLHTP Electra Glide (with batwing faring) and FLHP Road King; and Victory's Commander I (with batwing faring), Commander II, and Vision.
Kawasaki has shelved its Concours 14P motorcycle after announcing an electrical recall. Honda's police motorcycle, which is tested by the Los Angeles County Sheriff's Department each October, will be tested by the M.S.P. for the first time.
"We found a local dealer who was selling those bikes," Rogers said. "They come from the factory, and the dealer does minimal upfitting."
The driving unit was contacted by Can-Am for possible testing of its Spyder roadster, but the company elected to do more testing on a law enforcement version of a vehicle Rogers describes as a "reverse trike."
The vehicles will be evaluated for acceleration, top speed, and brake testing from Sept. 12-15 at the Chrysler Proving Grounds in Chelsea. The vehicles will also be put through high-speed handling tests, on Sept. 17, to simulate pursuit conditions at Grattan Raceway.
Related:
2012 Michigan Vehicle Tests: Patrol Cars