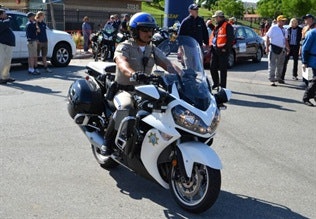 Kawasaki Motors Corp. has suspended its Concours 14P police motorcycle program, after determining that dealer modifications were causing a blown main fuse, increasing the risk of a crash.
Kawasaki's decision deals a blow to the cycle's prospects for wider police adoption and curtails the return to the police motorcycle market of a company that produced the "CHiPS"-era KZ1000P.
The National Highway Traffic Safety Administration (NHTSA) issued a recall notice in April for Concours 14P motorcycles produced during the 2009-2012 model years. The recall affects 268 motorcycles that were equipped with police equipment by Idaho-based Kawasaki dealers Beaudry Motors and BMS Inc.
When contacted by POLICE Magazine, Kawasaki's Mark Hosbach said the bike is no longer being sent out to dealers for law enforcement sales.
"We're currently on hold through the end of the year for shipping any Concours for upfitment for law enforcement as a result of the NHTSA recall," said Hosbach, the senior manager for the Concours 14P project. "We do not sell a police bike and at this time Kawasaki endorses no upfitter for law enforcement."
Police equipment such as emergency lighting, radios, and other gear powered by a second battery were causing the cycle's 30-amp main fuse to blow in some cases, according to NHTSA documents. If the fuse blows, the engine may stall, and the vehicle could crash.
In April, Kawasaki sent letters to its law enforcement clients informing them to bring the motocycles to dealers for the fix.
One of the motorcycle's biggest customers, the California Highway Patrol, has taken its 65 Concours 14P enforcement cycles to dealers who have addressed the issue, agency spokeswoman Fran Clader told POLICE Magazine.
"None of our motocycles had experienced any issues," Clader said. "There were no problems detected ... The safety of our officers is our number one priority."
In August of 2010, C.H.P. fleet managers signed a purchase agreement with Beaudry to begin replacing its fleet of nearly 400 BMW motorcycles with Kawasaki Concours 14Ps. The agency is expected to go out to bid for a new motorcycle contract later this year, Clader said.
Other agencies who have purchased the bike include the Arizona Department of Public Safety, Nevada Highway Patrol, Idaho State Police, Mesa (Ariz.) Police Department, Austin (Texas) Police Department, Colorado Highway Patrol, Sanford (Fla.) Police Department, Boise (Idaho) Police Department, Seattle Police Department, and Portland Police Department.
The problem was first reported to Kawasaki by a law enforcement agency in November of 2011. On March 23, Kawasaki determined the equipment installed by Beaudry and BMS had caused the detect and decided to issue a recall, according to the NHTSA documents.
The motorcycle also will not be tested by the Michigan State Police's Precision Driving Unit at the annual testing of law enforcement vehicles in September, Sgt. Matt Rogers tells POLICE Magazine. When it was tested in 2010, the motorcycle edged the competition in acceleration, top speed and quickest braking.
Related:
Arizona Troopers Pick Kawasaki for Highway Patrol
CHP Adopts Kawasaki's Concours 14P Motorcycle