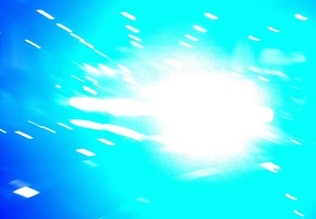 Two things were clear from a visit to this year's Police Fleet Expo: Ford's new police interceptor sedan and police interceptor SUV are starting to make serious impact in the patrol vehicle market and manufacturers are searching for ways to make emergency vehicle operations safer.
Police Fleet Expo 2012 was held this week in Charlotte, attracting more than 100 vendors. The aisles of the Queen City's downtown convention center were packed with a wide variety of vehicles all bearing extremely bright emergency lights that were blinding in their cumulative effect.
Ford Accessories
The focus of many vendors at the show was clearly accessorizing the newly introduced Ford Police Interceptors, as numerous vendors were promoting products designed specifically for these new patrol vehicles.
AEDEC International showed a prisoner transport systems for both the P.I. Sedan and the P.I. Utility. The back seat units provide a variety of means for securing prisoners and are available with or without wiring channel adaptation. In addition the Utility version offers a rear screen option to prevent prisoner access to all the stuff officers have stored in the back of the vehicle.
Havis exhibited a collection of new accessories designed specifically for the P.I. sedan, including consoles, mounts for computers and displays, and a folding trunk tray. The Ford P.I. console is a low-profile unit designed to accommodate smaller remote-control heads and permit access to all OEM dash controls. Havis computer and display mounts offer vehicle-specific bases that fit the existing OEM seat bolts and include upgraded swing arms with motion adapters. The Fold Down Trunk Tray for the P.I. sedan maximizes trunk space and features a slide-out equipment tray for easy mounting of electronic components.
Jotto Desk showed its 13+ Single Cell prisoner transport module for the Ford P.I. sedan. The Single Cell features armored windows and handleless door panels for security, easy-to-clean seats and floor pans for biohazard and contraband control, and ample legroom for even the largest prisoners.
LED Innovations
The first thing any casual visitor notices about a law enforcement vehicle and vehicle accessory event is that it's blinding. Police Fleet Expo 2012 was no exception; lightbars, wig-wags, alley lights, and tail lights blared from almost every booth, showing off the latest LED innovations.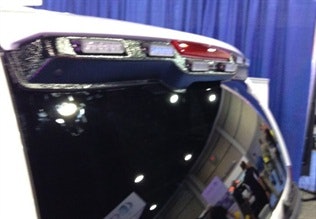 All that retina-searing light was designed for one purpose: to make it safer for officers to operate their vehicles. There were lights designed to be brighter than their competitors, there were lights designed to shine more emphatically at cross angles to the car to prevent motorists from T-boning officers at intersections, and there were lights designed to be easily mounted where lights were never intended by the vehicle manufacturer.
The cool thing about Brooking Industries' new Shadow rear lighting system for police utility vehicles is how it mounts. It sticks to the back glass of the tailgate with industrial double-sided tape. Because it's mounted externally and the lights don't have to shine through the tinted glass to be seen, the lights can be more easily seen by motorists and that enhances officer safety. Available for Chevy Tahoe and soon to be available for the Ford Police Interceptor Utility.
Code 3's Tricore Technology now operates with multi-colored lights in the same lightbar. Prior to this innovation, Tricore Technology (extremely bright, modular, high-efficiency lights developed and patented by Code 3) could only accommodate monocolor light. The new multicolor Tricore Technology is used in Code 3's Defender lightbar. Code 3 says the new Defender is two-and-a-half times brighter at 45-degree and 60-degree angles than any other lightbar and two times brighter from the rear. Available in any configuration of red, blue, amber, and white.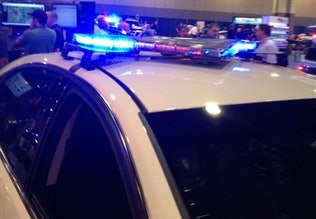 Federal Signal's Valor is one of the most unusual new lightbars on the market. This thing looks for all the world like a "W;" or if you're familiar with Archie Comics, Jughead's hat; or maybe a king's crown. Whatever it looks like to you, it's distinctive, and it has a purpose. The Valor's unusual design makes it more visible at 45-degree and 90-degree angles as a vehicle approaches an intersection. Standing only two inches tall, the Valor is very low profile and is available with blue, red, white, and amber light configurations.
The Nova division of ECCO Group has a new Hide-A-LED model called the VHAL Series. It's a high-intensity, directional six-LED warning light designed to be mounted as a tail light or headlight. The VHAL can also be surface mounted to the vehicle exterior. Available colors include white light (460 lumens), amber (200 lumens), red (200 lumens), and blue (100 lumens) with 16 different flash patterns. Can be synchronized with other Nova light systems.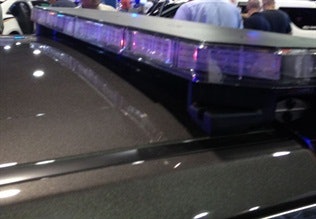 Soundoff Signal's Intersector is a surface mount light that is perfect for patrol car push bumpers. The light offers 180-degree visibility for enhanced intersection visibility (hence the name); it can be configured to 30 flash patterns; and it is availabe in amber, blue, green, red, and white.
Talking to the folks at Tomar Electronics you learn very quickly that they are very proud of the new Scorpion low-profile lightbar. This modular lightbar features an extruded aluminum housing, and it's not only one of the brightest lightbars available, it's one of the easiest to repair. If a light goes bad, you just pull it out and replace it using plug-and-play connectors. The Scorpion is fully scalable from very bright to "Oh my God. My eyes!" bright. Take down modules are available in halogen or LED. The front/rear can fit three or six LED modules, depending on mission needs.
Odds and Ends
Sometimes you can find some interesting widget on the fringes of a trade show that makes you wonder why nobody else has come up with that product yet.
At Police Fleet Expo 2012 that product was the Magnetic Mic. Invented by a Tennessee officer, the Magnetic Mic is a magnetic "hook" for radio mics. All you have to do is put the mic near the magnet and it's secure. The Magnetic Mic eliminates fumbling around looking for the hook and thereby enhances officer safety during high stress incidents. Installation is very simple and quick, and it's the only car accessory that I saw at this show that sells for $24.99.