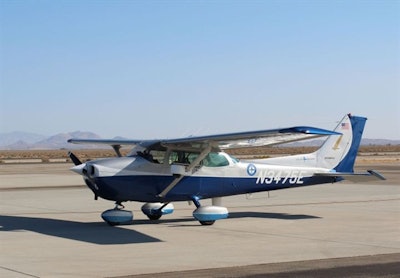 The Los Angeles County Sheriff's Department has begun using a Cessna aircraft outfitted with state-of-the-art surveillance gear that feeds streaming images to deputies on the ground.
The surveillance plane, which is being used for an aerial vantage point to fight crime and lower the police force's response rate to five seconds, began serving Lancaster on Friday. The Lancaster City Council on Nov. 8 approved the use of the plane, which is now being housed at the General William J. Fox Airfield.
City contractor Aero View partnered with subcontractor Spiral Technology Inc., to equip the Cessna 172 with a "one of a kind" surveillance system, Steve McCarter, Aero View president, told POLICE Magazine.
The plane will be flown by a civilian pilot for 10 hours every day at altitudes between 1,000 and 3,000 feet, which will be broken up across the course of each day to allow for breaks in flying. The surveillance camera is attached bellow the plane's left wing and uses visible and infrared images. The camera is controlled by specifically trained deputies at the station using two high definition screens.
A deputy simply has to type in an address and the camera will focus in on that location. While the camera can't see people's faces, it can focus in on them and see what color clothes they're wearing, what color car they're driving and what they are holding in their hands. A video record is also kept of everything the plane sees and the city is trying to make the surveillance plane as unobtrusive as possible for law-abiding people.
"It just gives us so much more to work with," Lancaster Mayor R. Rex Parris told POLICE Magazine.
Parris said that he hopes the surveillance plane will cause a geographic relocation of the crime in Lancaster. The city has had a 42% reduction in crime from 2008 to the end of 2011, but recently it has been fluctuating, causing the city to realize the need for this tool and its ability to possibly keep the crime rate low.
"The biggest concern we have is crimes where people get hurt," Parris said. "It's designed to save lives, especially law enforcement lives."
Parris said he hopes to acquire another surveillance plane so the city can be under 24-hour surveillance.
The plane is set to fly for 10 hours a day at a rate of about $300 an hour, which adds up to about $90,000 a month and more than $1 million a year. The equipment and plane together cost $1.3 million and is being paid for out of a general fund. In exchange for Lancaster using the plane for their police purposes, Aero View offered them one free year of usage out of their five year contract.
"Any small city could afford this," Lancaster Mayor R. Rex Parris told POLICE Magazine.
With the surveillance plane, law enforcement will be able to quickly evaluate critical response calls such as traffic accidents and only send the units that are needed will be sent, essentially saving the city money.
"When you break law enforcement down to its parts, what is it but surveillance?" Parris said. "I have no doubt that this is going to save a lot of lives."