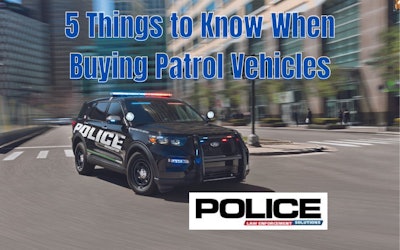 The days of the Ford LTD and Crown Victoria, or the Chevrolet Caprice and others, serving as patrol vehicles are for the most part long gone. Now departments have modern options – traditional, hybrid, all electric – when shopping for patrol vehicles. Much has changed, and there can be a lot to consider when it is time to buy.
Lindsey Bertino, Ford Pro police vehicles brand marketing manager, has worked with the auto maker for nearly 20 years. But, she has a more personal take on vehicles that serve law enforcement. Her father was a Wayne County (MI) sheriff's deputy who later worked for Ford, her grandfather was a police officer who retired and took a federal posting, and her husband is a former prosecutor. She also has multiple extended family members who are in or previously were in law enforcement.
Although her Ford career has not always had her focused on the law enforcement segment, she has seen great changes in police vehicles over the past two decades.
"I think one of the main things you're going to see is advances in safety and technology in vehicles," Bertino says. "We want to make sure that not only that officer is safe within the vehicle that he's driving, but if he happens to have any guests within that vehicle, that they're also safe."
At Ford, she has firsthand seen those technological advances in safety. One thing she points to is the automatic torque on demand designed into the F-150 Responder, which is pursuit rated. With this function activated, the vehicle will automatically select either two-wheel drive or four-wheel drive depending on the situation.
"If the officer is in an extreme situation, or a pursuit situation, and they're going through a variation of terrain, they don't have to stop and think if the vehicle should be in 4x4 or if they should be 4x2. The system is automatically going to go with a 4x4 and adjust the torque on demand as needed to keep that officer safe while they're in pursuit," Bertino says.
She further explains how patrol vehicles are now better prepared to take an impact. There are federal regulations mandating that the vehicles have to be able to take a 50-mph rear impact. She says Ford now designs its Police Interceptor, now an SUV, to higher impact standards.
"We've built our vehicles up to 75-mph rear impact. We have the vehicle reinforced so basically if there is an accident and the vehicle is stopped on the side of the road and they get hit by a car coming by in the expressway, it keeps that vehicle and that passenger compartment safe. We have a crumble zone setup," she says. "When you think of how vehicles have changed over 20 years, unfortunately I think it's some extreme situations that have required us to kind of take a step back reevaluate how these vehicles should function for the officers in the most extreme situations. We build them and design them in that way to offer that, that safety and that flexibility."
How often do departments nowadays have to change or replace vehicles?
"It really depends on the department and depends on how they're using the vehicle," she explains. "If you're in west Texas, you're going to have a lot more area to cover than, say an officer in New York City. So, the vehicles are going to be utilized in a much different area, just because the officers are going to be driving city miles versus highway miles."
Another big change she would highlight over the past 20 years is the increasing popularity of hybrid vehicles for police.
"The officer and the agency, they're still getting a great vehicle with a great power train but what they're doing is they're reducing their fuel consumption and reducing their CO2 output. Because the hybrid head is a regenerative battery, while the officers are idle it goes over to hybrid and is using that battery function. When you start driving the vehicle, the battery recharges as the vehicle is being driven," she explains.
"Over the last 20 years, some agencies may have been a little bit cautious about adopting hybrids and electric vehicles. Now we're seeing that there's a lot more willingness to take a look at these things and start adding them to the portfolio because we've shown that we can produce a good vehicle that doesn't compromise what you need in terms of your performance and in terms of your ability, durability, and safety for the vehicle and for the officers," she says.
With her background and knowledge, Bertino has some suggestions about what you need to know when you are purchasing police vehicles.
She has provided five things you need to know or consider. Those are:
1.
Safety
Safety is paramount for law enforcement agencies and fleet managers need to know that police cruisers will help improve officer safety throughout daily use. OEMs can help provide protective and proactive measures within the vehicle design to support these needs. For example, Ford police vehicles have reinforced occupant compartments and crumple zones to help reduce intrusion into areas occupied by passengers in emergency situations. We offer features such as roll stability control with police-tuned sensors to help optimize traction and vehicle control when needed. Technology innovation is always top of mind for us, whether it is the heated sanitization software that helped neutralized COVID-19 and make vehicle cleaning during the pandemic more effective and efficient to police perimeter alerts which provide enhanced situational awareness and protection while not in pursuit situations or while at idle. A critical question to ask while purchasing your fleet would be, "does the technology in this vehicle support officer safety during average or extreme duty cycles?"
2.

Durability
Fleet managers need to know that their cruisers are extremely durable (much more durable than a retail vehicle because more testing is required for job specific functions like curb impacts, median crossings, water wading, etc.). Ford's police vehicles are purpose-built for police rigorous duty cycles. They are tested to stand up to the extreme scenarios police work is regularly exposed to. Long idle times can be harsh on some engines, enhanced police durability-cycle testing helps reduce the risk of an engine needing to be rebuilt before the vehicle is decommissioned.
3.

Performance
Vehicles should be built and tested for superior performance and handling in all situations. Vehicles must meet minimum acceleration, braking, turning, and water fording testing requirements, but police agencies want them to do so much more beyond the basics. We've spent decades building police vehicles that get smarter over time and now with Ford PowerUp over-the-air updates, fine tuning vehicle calibrations via the cloud is easier than ever before to ensure fleets are running at optimum performance.
Reducing total cost of ownership with patrol vehicles is also a key consideration with agency operational and capital budgets constraints. Police vehicles with hybrid powertrains offer performance required to handle the rigorous police duty cycle without tradeoffs. This allows agencies to reduce their carbon footprint, reduce fuel consumption, save on fuel expenditures, and minimize vehicle and officer downtime with reduced engine maintenance while still achieving outstanding performance.
Electric vehicles are paving the way for even further improvement on TCO and sustainable solutions that can be effective investments to support where the transportation industry is heading in the future. We recently announced the F-150 Lightning SSV as a patrol community vehicle and many agencies are turning to the Mustang Mach-E for management or detective vehicles within their operations.
4.

Purpose-Built
Police vehicles should have unique features that make sense for police departments. Some of our work with agencies over the years has resulted in bespoke content such as heavy-duty seats with lower bolsters to accommodate utility belts, in-seat anti intrusion plates for additional officer safely, interior lighting options developed for police duty usage, and integration of police computers in both the front seating are or rear storage compartment to allow flexibility in department choices.
5.

Upfit Friendly
Vehicle features such as universal top trays for mounting equipment and reinforced panels to stand the rigors of police use will help extend the durability of added interior equipment/content. Vehicles should be easily modified for quick upfitter turnaround. When a manufacturer makes it easy for upfitters to tap into power needed to run auxiliary lights and other electrical equipment, the turnaround time for the upfit is reduced along with the overall work needed to be complete the upfit. Fleet managers should look for power junction boxes that will help the upfit process and also allow for easy access for future maintenance. Easy access to wiring and harnesses is a huge benefit.