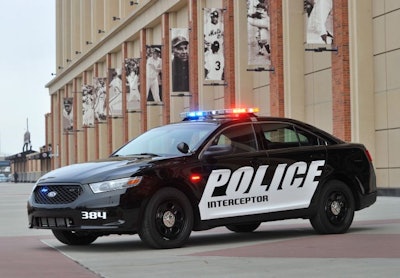 Ford has upgraded its 2013 Police Interceptor sedan, by adding the 3.7-liter V-6 variable camshaft timing (Ti-VCT) engine previously available only on the Police Interceptor Utility.
The engine will provide increased power and efficiency for patrol officers, according to Ford. The automaker added the new engine after feedback from officers on its advisory board.
The 3.7-liter V-6 is rated to provide 305 horsepower and 279 lb.-ft. of torque. The Police Interceptor sedan is now available with three powertrain options—a 3.5-liter V-6, 3.7-liter V-6, and 3.5-liter V-6 EcoBoost engine.
It offers fuel economy of 25 mpg on the highway, 18 mpg in the city, and 21 mpg combined, according to Ford.