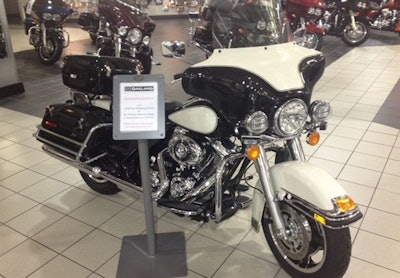 An Oakland Harley-Davidson dealer has begun delivering Harley-Davidson police motorcycles to the California Highway Patrol following a contract with the agency to provide up to 400 new motorcycles.
The state signed an initial purchase order for 120 Harley-Davidson FLHTP Electra Glide motorcycles so the agency can begin replacing aging BMWs that now make up its fleet of enforcement motorcycles. The contract was awarded May 15.
The agency performed an extensive evaluation of the H-D Electra Glide at its West Sacramento facility after the state cancelled a 2010 purchase order for Kawasaki Concours 14P motorcycles after that cycle was pulled from the market in August 2012.
The Oakland H-D dealership has begun delivering five bikes per week and plans to have all 120 delivered by the spring, said Mike Genthner, H-D Oakland dealer principal.
The agency will receive 32 Electra Glides from model-year 2013; the remainder will be model-year 2014 cycles.
The C.H.P. chose the Electra Glide over the H-D Road King because it has a faring that provides the officer better protection and offers more real estate to mount speakers and other police equipment, Genthner told POLICE Magazine.
The police Electra Glide cycles bear many similarities to the civilian versions, including the V-twin 103cc engine, and have been upgraded for police use. The dealer is changing out the stock cam for H-D's SE-255 Cam kit to increase torque and "give it a bit more out of the hole, more horsepower, and more top-end speed," Genthner said.
The bikes also include a robust charging system, heated hand guards and grips, and a push-to-talk system.