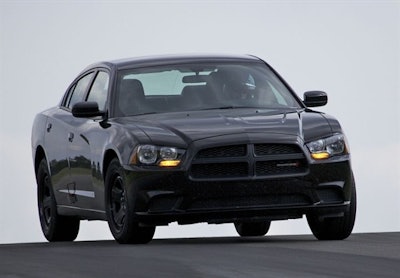 The Michigan State Police will test four new police motorcycles and Chrysler's new all-wheel drive Dodge Charger Pursuit this year among the 22 police vehicles evaluated for law enforcement purchasers.
In September, troopers assigned to the agency's Precision Driving Unit will get behind the wheel of 13 four-wheel patrol vehicles and ride nine motorcycles in an increasingly crowded two-wheel field. The Chevrolet, Dodge, and Ford vehicles will be introduced during the 2014 model year.
Chrysler will bring its all-wheel Charger that will compete against Ford's all-wheel patrol vehicles. Powered by a 5.7-liter, V-8 engine, the new Charger will arrive along with a pair of 3.6-liter, V-6 Chargers (2.65 and 3.07 axle ratios), and a pair of rear-wheel drive V-8 Chargers (2.65 and 3.06 axle ratios).
Ford will again bring three Police Interceptor sedans and its P.I. Utility. The automaker is producing a 3.5-liter V-6 sedan with front-wheel drive; a 3.7-liter V-6 sedan with all-wheel drive; and a 3.5-liter turbo charged sedan with all-wheel drive. The P.I. Utility arrives with a 3.7-liter V-6 engine and all-wheel drivetrain.
General Motors is returning with its four patrol vehicles. Two versions of the Chevrolet Caprice PPV include a 3.6-liter V-6 or 6.0-liter V-8 engine. The Chevrolet Impala returns with a 3.6-liter V-6 and has been rebranded as the Impala Limited. The pursuit-rated, 5.3-liter, V-8 Tahoe rounds out the field.
Several new motorcycles will be offered to law enforcement agencies in the coming year. BMW has introduced the F800GTP to go with its R1200RTP. The F800 arrives with a belt-drive, single-cylinder, 800cc engine and weighs two-thirds less than the R1200.
"It's more of a street bike, a smaller bike with better fuel economy that's easier to ride," Sgt. Ron Gromak told PoliceMag.com.
Milan-based Piaggio S.p.A. may offer its Moto Guzzi California 1400 Touring ABS and Moto Guzzi Norge 1300 ABS to police agencies depending on results from the testing, Gromak said.
"I think they want to get some data on it and then make that determination," he said.
Also new for 2014 is the Yamaha FJR1300P ABS, which was featured in June issue of POLICE Magazine. Returning motorcycles include Harley-Davidson's FLHTP Electra Glide (with the batwing faring) and FLHP Road King as well as Victory's Commander I (with the batwing faring) and Commander II.
This year, the testing has been scheduled for Sept. 18-23. The acceleration, top speed, and braking tests are scheduled for the Chrysler Proving Grounds in Chelsea. Vehicle dynamics will be evaluated at Grattan Raceway's road course.
Related:
How to Use Police Vehicle Tests
Vehicle Tests: Michigan Vs. California