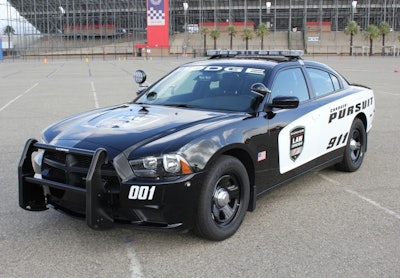 Chrysler will introduce an all-wheel-drive version of its Dodge Charger Pursuit patrol car for model-year 2014 that will compete with Ford's all-wheel Police Interceptor vehicles.
Law enforcement agencies can now choose from five different powertrains when purchasing Dodge Chargers from Chrysler. The automaker has submitted the all-wheel Charger to the Michigan State Police for its annual police vehicle testing in September, the agency has confirmed.
The Michigan State Police, which issues its troopers Chargers, will likely incorporate the vehicle into its own fleet, Sgt. Ron Gromak told Police Magazine.
"That all-wheel-drive platform is something we're really interested it," Gromak said. "We would have the maneuverability to reach inclement areas without a truck platform or SUV."
The state police's Precision Driving Unit will test five versions of the Charger in September, including two versions of the 3.6-liter, V-6 Charger (with axle ratios of 2.65 and 3.07) and three versions of the 5.7-liter, V-8 powered Charger. The rear-wheel V-8 Charger will be offered in the two axle ratios, while the all-wheel model will arrive with a 3.06 axle ratio.
The move gives Chrysler an all-wheel patrol car to compete with Ford's Police Interceptor Utility and sedan, which are offered in all-wheel versions. The turbo-charged Ford P.I. sedan is powered by a 3.5-liter all-wheel configuration. The sedan is also offered with a front-wheel powertrain.
By Paul Clinton
Related: