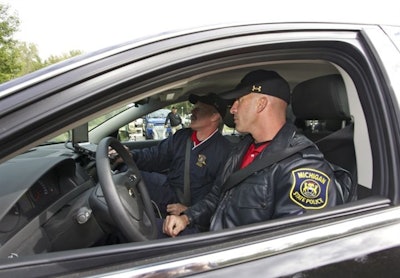 The Michigan State Police's Precision Driving Unit has released reports for its vehicle tests of 2012 model-year patrol vehicles.
The Precision Driving Unit tested 19 patrol vehicles for acceleration, braking, high-speed handling, and other tests. Six motorcycles were included in the group.
The state police's driving unit tested Ford's pair of Police Interceptors (sedan and utility), the Chevy Caprice PPV, and Dodge Charger Pursuit. A pair of Victory Police Motorcycles—the Commander I and Vision—joined four bikes tested a year ago.
POLICE Magazine attended the event and has published coverage of the patrol vehicle and police motorcycle tests.
View final reports of vehicle description and photographs; vehicle dynamics; acceleration and top speed; braking; motorcycle dynamics; and motorcycle braking.
The reports can be viewed at the agency's Web site. Agencies can also e-mail Lt. Keith Wilson of the Michigan State Police for a print copy.
Related:
2012 Michigan Vehicle Tests: Motorcycles