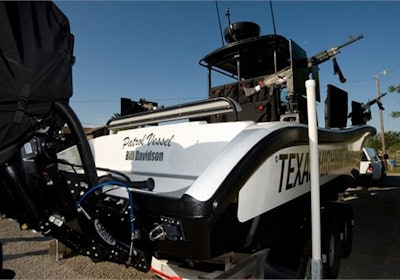 To prepare its troopers for possible engangements with Mexican drug cartel soldiers and their military-grade weaponry, the Texas Department of Public Safety set up a Tactical Marine Unit with three armed vessels to patrol the U.S.-Mexico border splitting the Rio Grande River and Falcon Lake.
In December, Texas DPS commissioned the first boat in the newly formed unit. Additional 34-foot patrol boats were added in March and April to the 40-trooper unit tasked with enforcement on the river and Intracoastal Waterway.
"The Tactical Marine Unit and the patrol vessels represent a significant enhancement of the state's efforts in combating Mexican drug cartels and other criminal organizations that transport illegal drugs into Texas and a variety of weapons, explosives, and munitions out of our state into Mexico," according to a release from the agency. "They will be used to impact so-called splashdowns, where drug smugglers crash their vehicles into the Rio Grande River and transport contraband back into Mexico."
The black-and-white patrol vessels are equipped with fully automatic weapons, ballistic shielding, and night vision capabilities.
Each boat arrives with six FN M240B medium machine guns chambered in 7.62x51mm NATO. Each vessel is powered by three 300-hp outboard motors.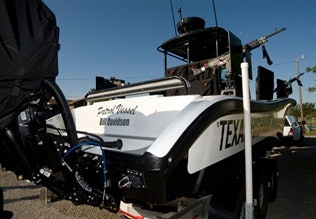 The latest vessel was commissioned on April 11 in Port O'Connor and named in honor of the late trooper Bill Davidson—20 years after he was fatally shot in the line of duty during a traffic stop in Jackson County. The vessel will patrol the Intracoastal Waterway.
The J.D. Davis and the David Rucker vessels were commissioned in December and on March 1 respectively. They now patrol the Rio Grande River. Trooper Davis was shot and killed in Lubbock County in 1980 and Trooper Rucker was shot and killed in Cameron County in 1981.
Funding for the boats came from homeland security grants and the Texas Legislature.