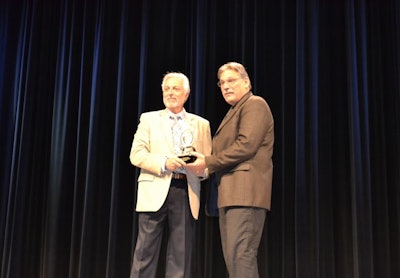 Police agencies are typically proud of their traditions, but it was because he broke tradition that the NYPD's fleet manager was presented with a prestigious industry honor for achieving fuel savings with hybrid vehicles.
Robert Martinez, executive director of the NYPD Support Services Bureau, was presented with 2012 Larry Goill Memorial Quality Fleet Management Idea award in St. Louis on April 24 during an industry conference.
Although the NYPD was exempted from a 2007 plan by New York City to reduce greenhouse gas emissions by 30% by 2017, Martinez proactively expanded a pilot hybrid vehicle program started in 2002. The pilot included three hybrid-electric vehicles working in non-enforcement categories. The expanded pilot included the traffic enforcement division and later the marked patrol division.
The NYPD has been able to significantly reduce its fuel consumption by 1.1 million gallons in 2011 from the benchmark year of 2008. The current NYPD hybrid fleet numbers nearly 300 and is growing, according to the city's website. Martinez manages about 8,200 vehicles for the NYPD.
In addition to the use of an alternative-fuel model vehicle, other changes, including using LED lighting to reduce voltage, laptop computer mounts, interior seat modifications, floor material changes, vehicle rightsizing, and an anti-idling campaign have also contributed to the reduction in fuel usage by the department.
During his acceptance speech, Martinez noted that the implementation of the hybrid vehicles followed a strict set of priorities. "I would like to thank my team that made it all possible and happen and listened to the operators of the vehicles, because the vehicles had to meet the mission and we put it into a priority order. First, safety; second, was the mission; and third, was to save some fuel and do things more green," he said.
This isn't the first time that Martinez' efforts have been recognized by the industry. The NYPD fleet was named as one of the "Best 100 Fleets in North America" in 2008, 2009, and 2010, and ranked among the top government green fleets in 2009. Police departments from around the world have requested information about how the NYPD's hybrid-electric vehicles are performing in the strenuous law enforcement environment of the nation's largest city.
Martinez joined the NYPD in June 1986 as an auto service worker in the fleet services division, and quickly advanced to auto mechanic and then supervisor of mechanics, assistant supervising supervisor, and supervising supervisor before his appointment to director in 2006. He earned a bachelor of technology degree from New York City Technical College and an MS degree from the Robert F. Wagner Graduate School of Public Service at New York University.
The NAFA Fleet Management Association's Larry Goill Memorial Quality Fleet Management Idea Award honors individuals whose creative ideas improve fleet management by increasing productivity or creating bottom-line cost savings.
Chris Wolski is an associate editor with Automotive Fleet, a sister publication of POLICE Magazine.