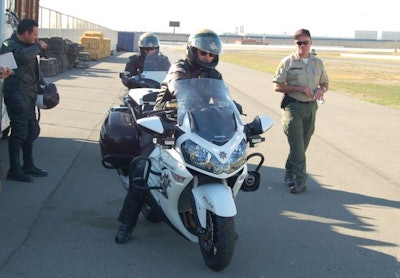 The Los Angeles County Sheriff's Department evaluated its largest crop of police motorcycles in the fall, analyzing seven cycles for performance, safety, and comfort.
Deputies and officers with the drivers' training divisions of the LASD and LAPD evaluated the BMW R1200 RT-P, Harley-Davidson Electra Glide, Harley-Davidson Road King, Honda ST1300-PA, and Kawasaki Concourse 14 ABS. Two new models from Victory Motorcycles—the Victory Commander I and Victory Vision—were also put through the paces.
The testing regimen includes a 32-lap high-speed course, vehicle dynamics pursuit evaluation, hard-braking test, and ergonomic review. This year, individual officer comments were eliminated and comments were aggregated.
32-Lap High-Speed Course
For the 32-lap evaluation, four riders take each bike out for eight laps and push it to record a top speed. Lap times are recorded via a GPS device mounted to the bike. The cycles were given ratings from 1-10 for steering, lean angle, suspension, brake fade, brake pull, and ABS operation.
The BMW R1200 collected the highest overall ratings, scoring at least a nine in six categories and a 9.5 in steering and lean angle. Brakes were "smooth and controlled, easy to modulate" and ABS operation was "transparent."
The H-D Electra Glide scored mostly eights with a six for lean angle and 7.7 for steering. The brakes had a "firm and progressive feel" with "no fade." The bike's gear ratio was "well-spaced, which kept [the] engine in its power band."
The H-D Road King scored mostly sevens with sixes for lean angle and ABS operations. The steering input was "light and predictable." The bike registered "good low-end torque."
Honda's ST1300 scored nines on brake fade, brake pull, and ABS operation. Its lowest score was a seven on lean angle. The cycle "rolls quick and consistent into corners" and holds its line firmly with a slight tire slip exiting turns.
The Concours 14 scored at least 8.2 in each category. Its high score was an 8.7 for lean angle. Its transmission was "evenly matched with [the] engine" and its traction control helps "maintain control when exiting corners."
The Victory Commander I scored mostly sevens with an eight in ABS operation and a 6.7 in brake pull. Riders said brakes "come on slow" and "felt spongy."
The Victory Vision recorded the lowest test results with scores from 7.2-8.5 and a five on lean angle for the converted luxury cruiser. Officers noticed "slight brake fade" and a shift lever that "feels tight" and is "awkward to find at times."
Pursuit Course
The pursuit course is a 2.45-mile city street course with virtually no straightaways that's meant to simulate real-world driving conditions officers would face. The course has virtually no straightaways and consists of left and right turns and obstacles in the roadway.
Braking
Officers evaluate braking response and efficiency with three different brake evaluations—hard-braking, transitional braking from a dry to wet surface, and transitional braking from a smooth surface to sandy surface.
In the hard-braking test that measures stopping distance from 60-0 mph, the H-D Road King needed the shortest distance (126.4 feet) to come to a dead stop.
Ergonomics
Each motorcycle is driven four times through a 157-mile loop covering 33 miles of city streets, 75 miles of freeways, 20 miles of coastal highway, and 29 miles of mountain canyons. Riders also perform a minimum of 10 simulated traffic stops on city streets.
Read the full report here.
Related:
L.A. County Sheriff Tests 2012-13 Patrol Vehicles
Victory Police Motorcycles (photos)