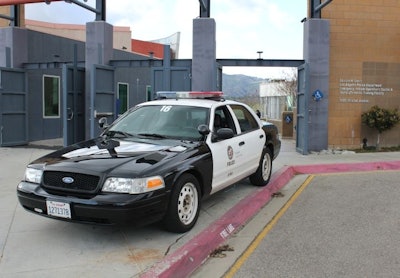 The Los Angeles Police Department has yet to choose its Crown Vic replacement patrol car, but that hasn't kept the agency's emergency driving trainers from discussing changes in how recruits are trained behind the wheel.
The crop of new vehicles offer a slew of updated safety features, including greatly improved anti-lock braking systems, electronic stability management, and electronic traction control that represent a quantum leap from the Ford Crown Vic.
The new vehicles also offer a broader range of drivetrain options, meaning officers familiar with the rear-wheel drive platform may need to learn how an all-wheel or front-wheel drive vehicle differs when driving in a performance mode. With the assistance of the sophisticated new computer controlled traction systems a long time staple of police driver training, skid control, may no longer be necessary, one of the agency's top trainers told POLICE Magazine.
Driver training has become doubly important for the LAPD, which has come under increasing pressure to reduce the number of legal settlements caused by police vehicle accidents. Agencies that emphasize safe driving practices, even while responding with lights and sirens, can avoid costly consequences such as duty deaths, civilian deaths, injured officers who miss work, and property damage. 2011 was the first year in almost two decades that gunfire deaths surpassed vehicle deaths among law enforcement officers.
"As a department we do a tremendous amount of Code 3 response driving throughout the city," said Officer Alex Penrith, an LAPD EVOC instructor.
LAPD recruits spend a full week near the end of their 24-week academy at the department's Emergency Vehicle Operations Center (EVOC) in Granada Hills, a remote San Fernando Valley community at the terminus of the 405 Freeway.
The center, which also provides firearms and tactical training, is nestled in hilly terrain removed from city streets. Yet its road course, which is spotted with scrub brush, immediately registers as a Los Angeles locale. As well as driving a series of various exercises on this course the recruits also train with the center's new state of the art computer driving simulators. Eight purpose-built simulators running FAAC software provide realistic scenarios. Here they must articulate policy and state law to justify their actions, learn and explain proper intersection analysis, and coordinate with other officers while completing the assigned objective. The simulators are configured with mounted laptops and working HVAC controls to enhance the experience.
Recruits must show their ability to recover from skids. For this, trainers use several different methods including the Skidcar, a vehicle outfitted with bolted-on training wheels. Drivers also maneuver a car equipped with bald tires on a flat "skid recovery" course that can be wetted down to simulate a rainy pursuit. The "skid pan" course offers a serpentine pattern of tight turns where recruits must use steering and acceleration (no braking) to maneuver the vehicle. These exercises may be modified in the future due to new patrol-car technology, Penrith said.
"These skills may not be needed as much in the future," Penrith said.
A pursuit test takes place on the 1.5-mile road course. Recruits must navigate about 25 turns of various radii and speed in about two minutes. Cadets must complete a lights-and-sirens response on the road course, as well as a high-speed reversing test.
For the department's "collision avoidance simulator," recruits approach from a long flat straightaway and enter a simulated intersection with overhead traffic lights that flashes green, yellow, and red as the driver approaches. Recruits must demonstrate that they can react and change into the correct lane quickly enough in order to avoid a potential collision.
Any modifications to driver training would likely come after the department selects its Crown Vic replacement later this year. The department hasn't purchased vehicles in three years due to the city's budget shortfalls, and fleet manager Vartan Vegiyan hopes he'll have funds in the 2012-13 budget to add new cars.