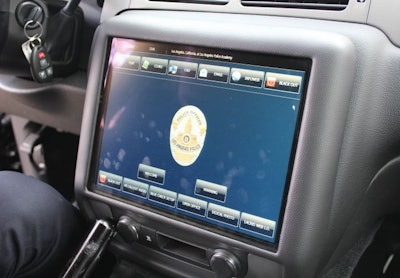 The Los Angeles Police Department's fleet manager has outlined several cost-control measures to address rising costs, including a study of major fleet costs to develop strategies for reducing top expenditures for fuel, tires, brake components, and big-ticket components such as transmissions and engines.
The department recorded an approximately 13% cost increase in 2011, as well as a 13% increase for parts, Vartan Yegiyan, the department's fleet manager, told POLICE Magazine.
The total parts cost increased by 13%, and Parts-to-Labor (PTL) cost per vehicle increased by 13% compared to 2010. Yegiyan attributed the cost increase to higher parts costs, higher costs of petroleum-based automotive products (such as engine oil, tires, etc.), and an aging fleet. Overall fleet costs rose 4% mostly due to employee efficiencies in productivity, effective cost control measures, and staff reduction.
Earlier this year, Yegiyan launched an in-depth review of the LAPD's existing contracts to determine where he could renegotiate deals or potentially switch to more affordable vendors. In particular, Yegiyan will evaluate aftermarket tires for LAPD cruisers to determine whether another option would be more affordable or last longer. The department now adds Goodyear Eagle RS-A tires to its fleet of Ford Crown Vics.
"Tire costs went up on some models by 15%," Yegiyan said. "That does significant damage to our operation."
Part of the increase was due to the increased cost of raw materials faced by tire manufacturers. The LAPD purchases about $1 million in aftermarket tires each year.
Parts costs rose 4% for the LAPD in 2011, largely due to out-of-stock purchases on non-contracted parts such as engine repairs, transmission replacements, and in-car computers. The cost increases were due to the types of parts replaced rather than an increase in the volume of parts replaced. The agency replaced an average of 56 parts per car—a small increase from 2010.
The cost of goods rose for two reasons, Yegiyan said. The components, parts, and supplies used in 2011 were more expensive because of the type of items purchased. The fleet division replaced more expensive items and more items that were out of warranty because of the age of the vehicles.
The average cost of goods purchased and used to repair and service the fleet increased by 13%. Managed inventory, which is also known as "stocked item cost," increased by 4%. The cost of purchased, out-of-stock ("buy out") items increased by 21%.
Yegiyan will consider a volume-purchase plan for non-contracted parts to reduce per-part expense. The department is now in a holding pattern on its fleet replacement program, due to city budget shortfalls. Yegiyan hasn't purchased new black-and-white cruisers or unmarked vehicles in three years; however, officers continue to evaluate new patrol cars for a Crown Vic replacement. The LAPD is expected to select one of three new patrol cars—the Ford Police Interceptor, Chevrolet Caprice PPV, or Dodge Charger Pursuit—later this year.
The cost of fueling LAPD patrol vehicles rose almost 50 cents per gallon during the year. In Jan of 2011, the department spent $3.10 per gallon. By August, it cost the LAPD $3.53 per gallon. Yegiyan expects fuel prices to climb higher in 2012.
Once the agency begins purchasing new patrol cars, fuel costs should begin falling, because the new patrol cars offer significantly higher miles per gallon than the Ford Crown Vic. As an example, Ford's 2013 Police Interceptor offers at least 18 mpg compared to the fleet-wide average of 14 mpg on the Crown Vics.
The department will also revamp its preventative maintenance program to match what new-vehicle manufacturers recommend.
"Our cost reduction is basically looking at everything, doing it right, and making sure in the long run it provides safe operation, not cheap operation," Yegiyan said. "Our number 1 goal is to do it right the first time, to use the best quality product that will be durable and prevent a breakdown so we don't have to use extra labor."