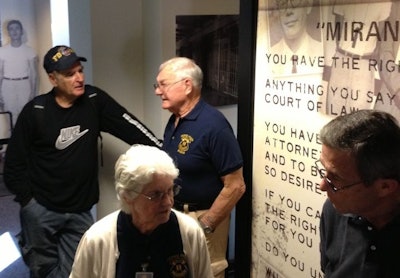 Every working police officer in America knows how to give Miranda warnings. Some officers know every word of the warnings by heart. Some carry a small card in their front uniform pocket. Some may have a Miranda app on their smart phone. Miranda warnings are as much a part of policing today as a set of handcuffs. It's difficult for us to imagine a time when Miranda was not a part of policing. But this day marks the golden anniversary of an arrest that brought about a new set of rules for police officers.
As officers welcomed in the new year of 1963, none ever used the words, "You have the right to remain silent." Arrests were made, confessions were obtained and cases were prosecuted without a second thought to tell arrestees about their Fifth Amendment and Sixth Amendment rights.
In March of 1963, Phoenix Police Officer Carroll Cooley arrested Ernesto Miranda. Nobody blinked twice at the arrest. Miranda was questioned about the crime like every other accused person. Miranda confessed, wrote out a statement, and was booked. He was convicted of kidnapping, rape, and armed robbery. He was sentenced to prison. Case closed. Or was it?
The arrest of Ernesto Miranda set forth a judicial process that lasted for over three years. In 1966, Miranda v. Arizona was one of four cases that were brought before the U.S. Supreme Court dealing with custodial interrogations. The cases brought into question the rights of the accused and the responsibility of officers to advise the accused of their rights.
On June 13, 1966, the court ruled that Miranda's confession could not be used against him because he was not advised of his right to remain silent, right to counsel, and what would happen if he talked. At Miranda's second trial, his confession was not used. He was convicted a second time and sentenced to 20 to 30 years in prison.
Miranda was paroled in 1972, and began selling autographed Miranda warning cards for $1.50. He was arrested numerous times for driving violations, eventually losing his license. He was sent back to state prison for a parole violation, after he was arrested for possessing a gun. On Jan. 31, 1976, following his release from prison, Miranda was fatally stabbed during a bar fight in Kingman, Ariz.
Although the ruling didn't help Mr. Miranda, it did set those four warnings into stone. Officers are now trained on when and how to read those four important warnings to arrestees. Officers may not know why they're called Miranda warnings, but they should note that today marks a semi-century of the arrest of Miranda, who will live forever on a little card in the front pockets of police officers.
Related: