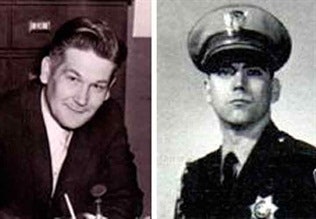 Editor's Note: This blog post first appeared on the Los Angeles Police Protective League's website.
Forty years after his unspeakable crimes, a triple murderer and double cop killer is requesting a "compassionate release" from state prison. When Gerald Youngberg requested a "medical parole" last year, we successfully weighed in with letters of opposition. Today, law enforcement agencies and organizations throughout California are strenuously opposing parole of any kind for Youngberg. The League is joining the effort and encourages others to do the same before his March 19 hearing.
In 1973, Youngberg took the lives of San Bernardino County Sheriff's Lt. Al Stewart, California Highway Patrol Officer Larry Wetterling, and gas station attendant Robert Jenkins in execution-style murders. He was sentenced to death, but his sentence (along with hundreds of others' sentences) was overturned in the mid-1970s when the California Supreme Court declared the state's version of the death penalty unconstitutional.
Youngberg has been denied parole 11 times. In 2012, he withdrew a request for a medical parole in the face of massive law enforcement opposition. When his latest attempt at freedom takes place at a Board of Parole Hearing in March at High Desert State Prison in Susanville, we can (and must) make that number 12.
The request by Youngberg for a compassionate release is the same strategy attempted by Gregory Powell, convicted cold-blooded killer of LAPD officer Ian Campbell in the famous onion field case. Powell wanted another chance at getting out of prison because he had cancer and he believed that fact should justify a compassionate release from prison. Never mind that he showed Campbell absolutely no mercy and tried to murder Campbell's partner Karl Hettinger that same night in that same onion field.
It should be expected that Youngberg will remain and die in prison. It defeats the purpose of a life sentence if, at the end of life, murderers like Youngberg are let out so their last days can be spent in comfort. Part of the deserved punishment for his brutal crime is that he spends his last waking moments deprived of freedom.
Youngberg stands convicted of a callous triple murder, including the murder of two peace officers. To release someone who has committed the murder of a peace officer—let alone two, both of whom were apparently execution-style killings—is unacceptable under any circumstances.
The LAPPL encourages community members to oppose the alteration of Gerald Youngberg's sentence. Letters opposing Youngberg's parole should reference "Penal Code 3550 Parole Hearing for Gerald Youngberg, Inmate Number B50097" and be sent to:
High Desert State Prison
Attn: C&PR/Records Office –Board Desk
475-750 Rice Canyon Road
P.O. Box 750
Susanville, CA 96127
Board of Parole Hearings
Attn: Jennifer Shaffer
PO Box 4036
Sacramento, CA 95812-4036
We invite you to share your thoughts by leaving a comment below.