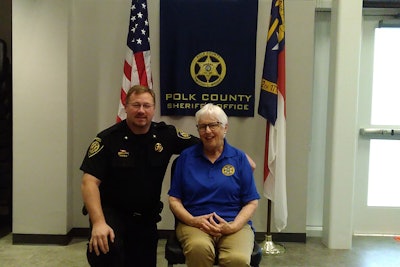 Last week we reported on a small police department in South Carolina that is considering initiating a reserve officer program after an officer who had resigned from the agency for personal reasons expressed an interest in volunteering part-time.
The Isle of Palms Police Department has a shortage of five officers so the addition of trained, sworn, and state-certified volunteers would help in providing service to the community.
Chief Kevin Cornett said the retired officer has "years of experience, he's got crime scene experience as a crime scene technician so why not give that person an opportunity to volunteer their time and give back to our community."
Many police agencies have launched similar programs. In October, we reported that the Sauk Rapids Police Department has announced that it will begin looking for volunteers to join its newly formed Police Reserve Program. In June we reported that Jeremy Spencer—the former drummer of Five Finger Death Punch—has been sworn in as a reserve police officer for the Rockport (IN) Police Department.
Other celebrities who have been reserve officers include Shaquille O'Neal, Erik Estrada, and Dean Cain.
Further, today we reported on a team known within the Blaine (WA) Police Department as the Auxiliary Communications Service—consisting of 26 citizen volunteers—who use portable radios and ground stations to communicate on the ham-radio network to help with reporting on traffic flow, medical emergencies, and other information useful to public safety personnel during planned large-scale events. They are also at the ready to similarly aid in natural disasters.
Every member of the ACS is an unpaid citizen volunteer.
Last week in this space, I wrote about the benefits of standing up a Citizens Police Academy. Citizens Police Academies educate the public on the challenges that officers face and how they solve difficult problems—oftentimes in a split second while under extreme stress. Perhaps more importantly, these programs build stronger relationships with the community through openness and transparency about how police officers go about protecting the citizens they serve.
These programs also have the potential to create interest among attendees in volunteering to serve alongside the police officers who serve their communities.
Here are some thoughts on taking your connection with the public to the next level by bringing them on as volunteer administrative workers and/or sworn reserve officers.
Deploying Reserve Officers
Two of the people who graduated in my first Citizens Academies went on to become police officers. One is a young man who is now a full-time officer with an agency in the Bay Area.
Another is a guy in his mid-40s who is an unpaid volunteer reserve. His primary duties involve working foot patrol at large-scale events such as festivals, parades, and sporting events, but he sometimes gets paired up with a full-time officer in a patrol car and works the streets.
The CPA is not the only source of potential recruits into the reserve ranks. Many reserves are retired officers from another agency who simply want to remain in law enforcement in a limited capacity.
Many reserves are "extreme volunteers" who work in an entirely unrelated industry but who have a strong sense of giving back to the community. Some reserves are armed and have full arrest powers, while others are unarmed and work mainly in community relations. Some reserves are members of the clergy whose sole purpose in uniform is to provide chaplain services to officers and victims. Some work foot patrol in the business district, issuing citations for "quality of life" crimes often associated with homelessness. Some strictly take reports from crime victims long after a crime has been committed.
The point is that a reserve officer program is what you make it—and what you make it is dependent entirely on the needs of your agency and your community.
A well-managed reserve officer program can enhance an agency's ability to serve the community and to better connect with the community—the key words being "well-managed."
That means from inception to implementation, every detail must be accounted for. How many hours per month will we require of our reserves? Will they be paired with a full-time officer or work alone? What will be the scope of their assignments?
Like anything else in law enforcement related to staffing, there will be cost. Reserves are not necessarily paid—although some are—but there is cost related to training and equipment, as well as management of the program. That having been said, a reserve officer program frequently leads to significant net savings over time. Amid shrinking budgets and increasing demand for police services, reserves can be a great addition to an agency's ranks.
Another way to partner with the public is to enlist volunteers to handle administrative duties within the department such as the abovementioned ACS up in Blaine, Washington.
Administrative Volunteers
Employing citizen volunteers in administrative as well as support duties can do a lot to strengthen police-community relations, and increase the efficacy of an agency.
The International Association of Chiefs of Police (IACP) manages and implements the Volunteers in Police Service (VIPS) Program in partnership with the Bureau of Justice Assistance, Office of Justice Programs, U.S. Department of Justice.
VIPS says that volunteers can be a valuable addition to any law enforcement agency by providing a variety of services at little cost to the agency.
"They allow law enforcement agencies and officers to focus on policing and enforcement functions by providing a wide range of supplemental or support services," VIPS says on its website. "Volunteers can also enhance community-law enforcement relations by gaining a better understanding of the agency and law enforcement as a whole."
Citizen volunteers are often retirees who simply want something to do. They maintain files, do data entry, handle accounting, answer the non-emergency phone line, staff the front desk, and the like.
The key is to place the right person in the right position. Their tasks should have meaning for them and offer them some sense of belonging. Their duties should also be tailored to that individual's strengths. An expert in computers is best assigned to help in the IT department while a business manager might help with scheduling and staffing.
Full-time administrative employees may initially bristle at the sudden appearance of a colleague who is there just two or three shifts per month, but they'll almost always change their tune when they discover that the work is being done more efficiently and with less stress.
Final Words
For both administrative volunteers and reserve officers, the key is making sure you hire the right people. There have been several high-profile examples of a reserve officer failing to meet the performance expectations of an agency or the community it serves. Perhaps the most memorable in recent years was the case of Robert Bates, a 73-year-old insurance executive who shot and killed a suspect while serving as a reserve officer with the Tulsa County Sheriff's Office in April 2015.
Conversely, recall the incident in which Oklahoma County Sheriff's Office Reserve Deputy Mark Vaughan—whose full-time job is CEO of a food distribution company—responded to the sound of screams in his facility, grabbed his patrol rifle, and shot a knife-wielding man who had killed one woman and was attacking another. Vaughan was later given the NRA Law Enforcement Officer of the Year Award for his heroic actions.
The bottom line is that reserves and admins don't just help the bottom line—perhaps more importantly, they help strengthen an agency's connection with the community.