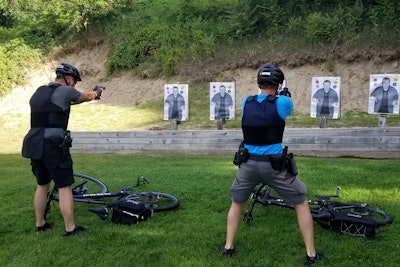 Across America in police jurisdictions large and small, rural and urban, law enforcement officers can be seen riding tricked-out mountain bikes, pedaling their way around on patrol. Officers in bike helmets and short pants are nearly ubiquitous now, but this wasn't always the case.
While police bicycles can be found in the historical record dating to the 1800s, two officers with the Seattle Police Department—Sergeant Paul Grady and Officer Mike Miller—are widely credited with creating modern-day bike patrol in 1987.
At the time Seattle officers faced challenges of getting quickly to calls through gridlocked streets caused by construction during a period of rapid expansion and growth in the downtown area. Grady and Miller—both avid cyclists—suggested bike patrol.
They were almost immediately successful, and word soon spread—by the mid-1990s, there were more than 4,000 bike patrol units in the United States.
Training and Maintaining
Bike patrol is a lot more than riding a bike in uniform. It requires significant training specific to the unique challenges presented to pedal-powered police officers.
There are numerous ways in which departments can have their officers trained for bike patrol, including the International Police Mountain Bike Association (IPMBA), the Law Enforcement Bicycle Association, and a host of private training vendors, many of which are comprised of retired or current LEOs with experience and expertise in Bike Patrol.
One such training outfit is LouKa Tactical, led by two warrior women named Lou Ann Hamblin and Kathleen Vonk. Bike patrol was one of the many assignments Hamblin held before retiring from her 22-year law enforcement career to co-found LouKa. Vonk has been a police officer since 1988, formerly with the Ann Arbor Police Department and presently with the Nevada Highway Patrol.
"You definitely want to require a recognized basic bike patrol course" for every officer who is selected for the bike unit, and adds that "one of the nationally recognized certifications is recommended," Hamblin says,
Regardless of which organization the agency selects for officer training, it must include both initial and ongoing instruction and education.
Initial training begins with selection of the officers themselves, who should be physically fit enough to meet the demands of pedaling more than 20 miles every day in a variety of circumstances. For this reason, almost every Bike Patrol Unit in the country is a volunteer assignment.
Secondly, riding a bike for patrol is vastly different from riding for pleasure—Hamblin compares it to motorcycle training.
"When you watch motor school, what do you see them spending their time doing?" she says. "They're doing a lot of low-speed maneuvers, a lot of cone work, balancing the bike, that type of thing. Well, we have a saying in our classes: 'It's like riding a bike. Once you fall off, you never forget how.' So, one of the things that we want [trainees] to learn is how to become one with a bike."
Vonk—who was a bike cop for 20 years—adds, "Anybody can ride a bike fast, but learning how to ride the bike slow and becoming one with a bike is one of the tenets of bicycle skills. Your goal as a bike cop is for those bike skills to become innate. So they become automatic. So you go on autopilot pilot. So when they have to use those skills, they don't have to think about it—they just do it."
LouKa Tactical offers training that also incorporates how "normal" patrol tactics such as contact and cover, suspect pursuit, and even use-of-force differs when the officer's primary mode of transportation is a bike. Even the task of maintaining 360-degree awareness is different on a bike because unlike in ordinary patrol, the officer isn't surrounded by a ton of metal or insulated by collision-triggered airbags.
It is also important to incorporate other elements of police work into training for duty on a bicycle, such as live-fire range work.
"Not all basic classes incorporate live fire, but we do," Hamblin says. "Officers learn how the bike patrol gloves affect their grip on their pistol and all of their other equipment, whether it's a reload, transitioning to a different weapon system, deploying the handcuffs and applying them to a suspect—they actually experience that. There's no better way to learn than actually doing something. You don't want to ignore the fact that they're bringing the bike to the party."
Finally, training must be continual and ongoing—mandatory refresher training therefore makes sense. Officers might have to become familiar with new equipment, new policies, or a legal update. Functional skills like curb-jumping, emergency turns, dismounts, and group riding practices must be regularly sharpened.
"Refresh your training every year, because it's a perishable skill and a lot of departments just run [bikes] during the warmer seasons rather than inclement weather seasons," Hamblin says. "So in the spring, when people are pulling the bikes out of the garage and brushing the dust off, they need to brush the dust off their bike skills as well, and go through a refresher class."
One of the ways LouKa Tactical recommends to do this annual training is in a supervised off-road, single-track ride that presents natural obstacles and challenges—from fallen logs to elevation changes to sharp hairpin turns—that simulate all manner of patrol environment.
Finally, Vonk adds that training for the person(s) responsible for maintaining the bikes themselves should not be overlooked.
"Are you going to contract with a local bike shop [for maintenance] or will you send your officers to a bike maintenance school to maintain the fleet yourselves? That may just depend on the sheer number of bicycles that you plan to deploy," Vonk says.
Well Worth the Effort
As was witnessed in Seattle 35 years ago, bikes have some serious strategic and tactical advantages in some circumstances over other forms of transportation for police officers. Police bikes offer an element of stealth and maneuverability that neither cars nor foot patrols can achieve. Bikes can maneuver up and down staircases, in and out of alleyways, and seamlessly move from city streets to municipal parks. Bikes are also ideally suited to working special events where large crowds are congregated.
"In Ann Arbor, we worked all of the University of Michigan football games where there were 110,000 people all congregated in that one or two block area," Vonk says. The bikes were just fantastic because there's no way patrol cars were getting through those thick crowds—that maneuverability gave us a quick response time to, for example, medical calls that happened in and around the stadium."
Indeed, bikes can be particularly helpful to officers patrolling on college campuses, as well as other school settings where there are multiple buildings on a property connected by footpaths or narrow drives.
Hamblin says, "We've been pushing for school resource officers to be on mountain bikes for years. When we went to high school, you had one school or two buildings. Now there is an actual campus—they're just huge—so an SRO on a bike can cut response times."
In addition to the practical policing benefits, its' not at all uncommon to see SROs on bikes bonding with school kids during impromptu trick-riding competitions.
Campus officers on bikes also present opportunities for non-enforcement contacts with young people, which can pay substantial dividends in police-community relations.
"We've had a lot of fun in that area over the years," Hamblin says.
That same type of community policing is evident in both urban and rural law enforcement settings.
Vonk explains, "In Ann Arbor, we had our Bicycle Touring Society—the AABTS—and we partnered with them quite frequently to present bike safety classes, whether it was through the League of American Bicyclists, their Smart Cycling Program or whether we went into the elementary schools and did little bike safety classes with a 'safety town' teaching kids some basic bike safety skills. It was really, really good community-police relations with the citizens."
Return on Investment
Starting and maintaining a bike patrol operation is neither simple nor easy—it's strongly recommended that at the outset, agency leaders research existing model policies, talk with other agencies that already have Bike Units in place, engage with subject matter experts who can help prevent unwanted pitfalls and errors, and ensure that the group is supported from the top-down.
Budget must be allocated for the upfront investment in equipment and training, as well as maintenance and upkeep going forward.
Once those investments have been made, it usually becomes quickly apparent that the Bike Patrol Unit offers myriad advantages for many years to come and many miles down the road.