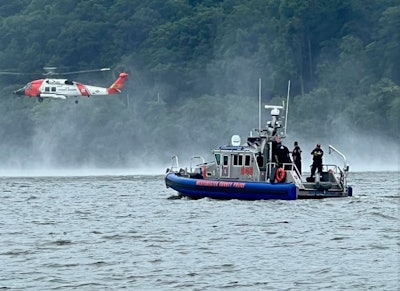 The United States Coast Guard estimates that its crews participate in nearly 20,000 search and rescue missions every year, and save as many as 3,500 lives in the process. Further, maritime officers with state, local, and county law enforcement agencies across the United States respond to countless calls for assistance on the water every year. Just last month, two such incidents made headlines that merit mention in this space.
In one case, an officer with the Ipswich (MA) Harbor Patrol rescued five people—including a baby and a pregnant woman—after an aluminum boat capsized in a mooring field during rough seas. Officer Matthew Bodwell observed an adult male in the water waving an arm for help. He sprang into action, pulling a pregnant woman from the water, followed quickly by a second woman, then a 14-month-old girl, followed by two men.
Just days before that, deputies with the Hillsborough County (FL) Sheriff's Office Marine Unit rescued 11 victims of a capsized boat in Tampa Bay. They were aided by several alert local citizens who also assisted when they saw the vessel was in trouble. Also involved in the rescue were personnel and vessels with the Hillsborough County Fire Rescue Marine Unit and the U.S. Coast Guard.
The heroism in both of the abovementioned incidents is made possible by rigorous training by operators in those organizations that is continual and ongoing.
Multi-Agency Training
For example, late last month, a group of police agencies in New York participated in a two-day training exercise held in conjunction with the U.S. Coast Guard New York. The training consisted of a full day of classroom instruction on Search and Rescue (SAR) patterns, boarding and inspections, Boating While Intoxicated (BWI) and other maritime law enforcement procedures.
The second day consisted of on-water exercises including boarding exercises, practicing SAR, as well as integrated work with helicopter rescue operations and UAS (unmanned aerial systems).
Participants included the Dutchess County Sheriff's Office, New York State Police, New York Department of Environmental Conservation Police, Orange County Sheriff's Office, Rockland County Sheriff's Office, Ulster County Sheriff's Office, U.S. Coast Guard Air Station Cape Cod, and Westchester County Police Department.
"All the different [participating] agencies have a wide array of different capabilities," Sergeant John Butcher of the Westchester County Police Department said. "Everybody brings a different tool to the toolbox, and when we all work together, we're much better at accomplishing the job overall."
Butcher adds, "When we have the opportunity to put all these different agencies in the same place to train together, we get a much better understanding for what different agencies' capabilities are. If I'm working in an area and I need a dive operation, I may not call this county for assistance because they don't have it, but I'm gonna call [another] county …because they do have the capability that I need to accomplish the task."
The training event held in New York was one of many such exercises undertaken by maritime and airborne units across the country every year in preparation for a busy summer season of rescue operations. One of the things maritime officers are always on the lookout for—but especially so when the waterways become congested with seasonal recreational enthusiasts—is Boating While Intoxicated (BWI).
The effort to address BWI—while yearlong in scope and scale—will get special attention this weekend, during which Americans will celebrate the Independence Day holiday.
Operation Dry Water
Beginning today, law enforcement officers and agencies across the United States will be on the water educating boaters on safe boating practices as part of the annual Operation Dry Water, a national awareness and enforcement campaign focused on reducing the number of alcohol- and drug- related incidents and fatalities on the water.
Law enforcement agencies from all 56 U.S. states and territories are expected to participate in Operation Dry Water. These agencies will focus their efforts on detecting impaired boaters, removing them from waterways, and educating the public about the dangers of boating under the influence of alcohol and drugs.
Maritime officers on bodies of water across the United States—including lakes, rivers, estuaries, and oceans—will be on heightened alert looking for those in violation of boating under the influence laws. One group placing extra emphasis on BWI enforcement this weekend is the abovementioned unit from Westchester County PD.
"We participate in Operation Dry Water every year" Butcher explains. "We will be operating on both the Hudson River and Long Island Sound this weekend. Not only are we working with other local agencies, we've actually partnered with the U.S. Coast Guard out of Sector New York. We will have boarding teams from the Coast Guard riding on our vessels to go out and conduct vessel inspections."
According to U.S. Coast Guard Recreational Boating Statistics the month of July sees the highest total number of recreational boating incidents nationally. Further, alcohol use is the leading contributing factor in recreational boater fatalities, and a leading factor in recreational boating incidents.
This weekend and throughout the year, maritime officers will be on alert for whatever may come to pass.