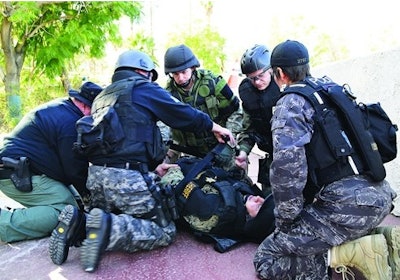 Earlier this month, we reported that the fast action of an officer with Memphis Police Department quite possibly saved a colleague's life.
Memphis police had received a call about a man suspected of stealing a car from a family member had driven to another family member's residence and sometime after arrival there had fired at least one shot and made threats to the people in the residence.
MPD officers responded and were in the process of taking the suspect into custody when he reportedly pulled a gun from his waistband and shot at officers, striking and wounding one of them.
Another officer quickly applied a tourniquet to the wounded officer until paramedics arrived. The injured officer was transported to a nearby hospital where he was initially listed in critical condition. He was later upgraded to critical but stable condition and was reportedly "doing better" and alert one day after the incident.
The rapid response of the officer with the tourniquet demonstrates just how potentially vital it is to have one of those simple life-saving devices on your person, as well as being well-trained in how to use it.
Assess the Situation
First you've got to figure out what you've got. Clearly, in the event that a limb is severed off entirely—by an explosion or some other catastrophic event—the evaluation is self-evident.
In the case of a gunshot, you're going to have an entry wound but it's important to also check for an exit wound. Stabs and cuts are less likely to have an exit wound, but a thorough—but quick—evaluation of the wound area is a critical first step.
Some of this can be a challenge when the victim you're evaluating is yourself—many officers have saved their own lives by self-applying a tourniquet—but placing the device in such a way that it only resolves half of the problem can be fatal.
Take necessary time to assess the situation.
Apply the Tourniquet
The "old school" rule of thumb was to position a tourniquet "two inches above" whatever wound is being treated. However, experience in places like Iraq and Afghanistan over the past two decades has provided compelling evidence that the best general rule today is "high and tight"—place the tourniquet as high up on the wounded limb as is possible and tighten the windlass device until the bleeding stops.
Experienced warfighters also point out that one tourniquet may not be enough to control a severely bleeding wound. Sometimes a second or third devices is necessary. Gauze—when available—and manually held pressure as well as a hemostatic agent like Quik-Clot can be essential.
Get the Equipment
Among the four basic types of tourniquets—windlass, elastic, pneumatic, and ratcheting—the windlass is the most commonly used in law enforcement for emergency purposes. The North American Rescue CAT Tourniquet, GEN 7 Combat Application Tourniquet is one of the most popular among windlass-type models, and the First Voice SWAT-T Tourniquet is an excellent choice among elastic options.
In the unfortunate event that you don't have an actual tourniquet available—or perhaps you need more than one as mentioned above and you've already used the one on your duty belt or load-bearing-vest—improvised tourniquets can be surprisingly effective.
In the immediate aftermath of the Boston Marathon bombing in 2013, hospital emergency room staff saw that arriving victims had on their extremities tourniquets fashioned from "belts, shirts, and other materials" and said later in media briefings that "without a doubt, tourniquets were a difference-maker and saved lives."
Get the Training
There are myriad organizations through which you can get basic initial training in the application of a tourniquet—in fact most academies nationwide now mandate such training for recruits. However, it's one of those "high-risk low-frequency" events in real-world police activity so the training should be recurring (either in-service or through an outside training provider).
There are a variety of resources offered by American College of Surgeons (ACS) STOP THE BLEED program—from basic, beginner skills to train-the-trainer courses—that can enable officers to safely and successfully use tourniquets to save the lives of citizens and fellow-officers alike.
It's a good idea to get a "blue trainer" tourniquet with which you can practice. North American Rescue makes an exact replica of its duty tourniquet, for example.
A study published on the National Library of Medicine website showed that in a review of medical examiner (ME) autopsy records from one urban county's total of 1,804 homicide cases from 2003 to 2017, "extremity injuries were present in 22 (1.45%) of the penetrating cases, all of which were amenable to tourniquet placement."
The study concluded that a great many isolated extremity injury related deaths can be prevented with early tourniquet placement.
Uncontrolled bleeding is one of the leading causes of preventable death after traumatic injury, and the application of a tourniquet to an extremity quickly losing blood can be the difference between life and death.
As was evidenced in the recent incident in Memphis, the life an officer may save with the timely application of a tourniquet can be that of a fellow officer. It's certainly well worth the time and the effort to get the gear and get the training on how to use it, just in case.