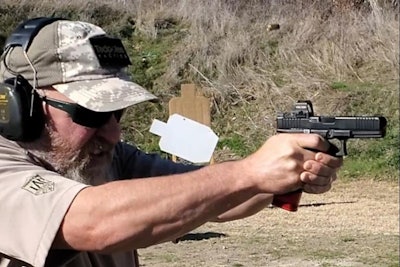 You're standing at the seven yard line in a solid stance—Chapman, Isosceles, Weaver, whatever is your favorite, most comfortable shooting position—on a sterile square range. You've stood in this spot dozens (if not hundreds) of times before.
The sun is shining in a crystal clear springtime morning sky. You smile. You're happy.
"Range is hot!" the instructor shouts. "Make ready! At will... fire!"
A fusillade follows and fades.
"Holster and step back!"
That unmistakable mix of sweet and savory—not acrid, but not rose petals either—hangs in the air and tickles your nose. You smile again.
"Range is cold! Check your targets."
Yours is a tight group. You smile.
You sneak a sly peek at the target next to yours. "They threw one way wide," you think to yourself.
You smile.
You're good at this stuff.
Unfortunately, this stuff isn't exactly training, and this stuff probably isn't going to save your life. For that, you'll need to be considerably less comfortable. For that, stuff will have to suck.
You Suck at Stuff
During ILEETA 2022 in St. Louis, Todd Fletcher—owner and lead instructor for Combative Firearms Training and 2022 ILEETA Trainer of the Year—delivered a course titled, "Practice What You Suck At" during which he emphasized the importance of working on skills that improve your weaknesses and take you outside of your comfort zone.
Fletcher's idea for the course stemmed from the knowledge and understanding that if a person is in a high stress, rapidly unfolding, desperate fight for their life, they're not going to magically acquire a vital gunfighting skill.
"A couple years ago, I came to a conclusion that I wasn't as good as I wanted to be with some particular handgun skills—shooting one hand, strong hand only, or support hand only, or drawing from my holster with my support hand, doing one-handed reloads, those kinds of things," Fletcher says.
"If you are in a fight for your life and shooting one handed, that's a bad day to begin with," Fletcher adds, "so you better be as good as you could possibly be in order to prevail."
He made up his mind that whenever he would do dry-fire exercises, for example, or draws from the holster, he'd add in the same work with the support-side hand.
Some individuals might need to push themselves to do different things such as shooting under time duress, shooting in low light, or shooting from awkward/uncomfortable positions.
"Most of the time when we go to the range—whether it's in-service training or our own personal practice sessions—we have a tendency to continue to practice the things we're good at," Fletcher says. "And it's important to do that so you can maintain that skill level and continue to improve. But we have a tendency to avoid doing things that we kind of suck at because it's a blow to the ego—nobody likes to be bad at something. Well, the way to get over that is to practice and get better."
Forcing Your Ego Aside
Put a bunch of hard-charging, chronically competitive, Type A, police officers in a classroom and ask them to stand up one by one and declare their known deficiency in the topic and you're not likely to get many willing participants.
Fletcher turns this upside down by asking people in this class, "Is there anybody in this room who feels that their shooting skills are as good as they'll ever be?"
"Well," Fletcher says, "nobody's gonna raise their hand. They may think that, but they're not gonna raise their hand. So then I say, 'Look around the room. You've just given every single person in this room permission to coach you up and make you better'."
Fletcher adds, "You have to face the things that you don't want necessarily to look at."
He says that he tells his students that they've achieved a certain level of prowess in certain areas, but they must still continue to examine and reexamine—and work toward mastery—other things that they hadn't previously mastered.
"In our instructor-level classes, one of the leadership principles is 'Check your ego'," Fletcher says. "I think that's good for all of us—not just firearm instructors—to set your ego aside and open yourself up to new information, new ways of doing things, and improving."
Not Just Firearms Training
Fletcher is principally a firearms instructor, but the principle can be applied to just about any discipline in law enforcement training—everything from DT to EVOC to verbal communications and report writing.
"We all have strengths and weaknesses. Gun guys like to go to the range and train and maybe they really need to spend a little bit of extra time on their report writing skills," Fletcher says. If you're a gun guy writing reports, there's, no joy in that topic. Part of the reason why we don't find joy in some things is because we suck at it."
The key is having the self-awareness—absent the attendant ego—to identify areas where you can improve and then take the appropriate action and do the work.
If you know that your reports are getting tossed back at you left to right and center or that you've gotten into verbal confrontations over nothing with a subject, they you should also know you can do better than that and seek it out a communications class or a de-escalation class.
All law enforcement officers, trainers, and leaders—and the profession as a whole—would all be much better off if people were more open to new information instead of continuing to do things the way it's always been done.
"If we want to continually advance our profession forward, we have an obligation to ourselves, our departments, the people we work with, and the communities that we serve to just get better," Fletcher says. We've got to get outside of our comfort zone. There's always something more. There's always the next step. There's never a finish line."