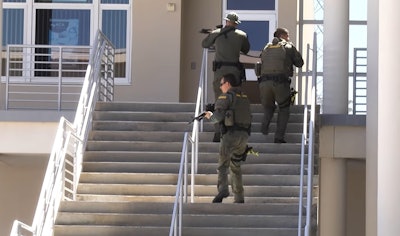 Since May's Uvalde elementary school attack, emergency dispatch centers nationwide have been receiving a wave of "swatting" calls about school shooters.
Through local news reports, police records, and interviews with state and local officials, WIRED compiled a list of 92 false reports of school shooting incidents in 16 states that took place from September 13 to 30. Many of the false reports we tracked align with data collected by the Educator's School Safety Network. While several impacted states experienced only one such call, others recorded a staggering number, including at least eight in Ohio, 15 in Virginia, and 17 in Minnesota during that three-week period.
Of the false reports WIRED tracked, at least 32 appear to be linked to a single group or perpetrator. Of the 60 remaining calls, many were made within minutes of one another. Most police departments refused to provide us with records or did not respond to multiple requests to confirm details about the contents of the calls, however, so the number of calls linked to a single swatting campaign may be much higher.
The false reports have continued into October.
According to education publication, The74, more than a dozen South Carolina communities fielded calls last week alerting them to active school shootings, officers rushed to campuses.
On Oct. 11, dozens of school across South Florida were targets of "swatting."
The caller or callers reported mass shootings and gunmen wearing body armor, according to Fox 13.
One of the targeted campuses was Riverside High School in Sarasota County.
The Sarasota County Sheriff's Office reported that 87 law enforcement officers responded to Riverview High.
First on scene was deputy who used her patrol SUV to defeat the school's gate. Sheriff Kurt Hoffman praised the deputy and his other personnel for their quick response. "I'm extremely proud of every single member who works in this agency," he said in an official video.
An FBI expert told The74, the calls can be coordinated. "If they're hitting 12 or 15 schools in a particular jurisdiction or a particular state all at once, that is absolutely a coordinated attack," said James Turgal, a former executive assistant director for the FBI Information and Technology Branch. Turgal is a 21-year veteran of the FBI, which is actively investigating the latest swatting attacks on schools.
Given its size, he suspects the most recent surge at schools is likely being coordinated by a group of people including foreign actors and swat-for-hire cybercriminals who carry out hoax emergency calls for money. While he does not necessarily believe it's a government-sponsored attempt to sow chaos on American soil, Turgal thinks U.S. teens may still be pulling the strings with low-level foreign actors.
In the last eight years, Los Angeles Police Detective Edward Dorroh has worked on hundreds of swatting incidents — including two that ended fatally. Of those, roughly 90% were carried out by children and teens, he told The 74. Dorroh, who is currently assigned to the FBI Joint Terrorism Task Force, is assisting in police investigations on the latest swatting incidents targeting schools. For that reason, Dorroh said he couldn't comment on current cases, but discussed his deep experience with these shadowy crimes and how police confront them.
Multiple motivations have been posited for the false calls. Some may be pranks. Some may be kids hoping to disrupt their schools. Sarasota County Sheriff Hoffman raised concerns that the swatting could be testing law enforcement responses to find weaknesses. There are also worries that some of the calls are being made by foreign actors attempting to spread chaos in the United States.