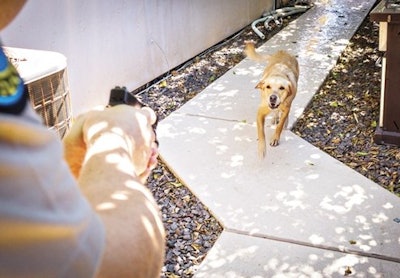 Earlier this month, an officer with the Wayland (MA) Police Department was forced to shoot and kill an aggressive dog that had reportedly attacked him outside a residence to which the officer had been dispatched after a caller to 911 abruptly disconnected the call.
According to the WCVB-TV News, the officer—whose name has not yet been released—was speaking with the homeowner at the scene when the dog darted out of the house and attacked the officer. The officer attempted to retreat to his patrol vehicle but the dog continued the assault, biting the officer several times.
In apparent self-defense, the officer shot and killed the dog. The officer was then transported to a nearby hospital where he was treated for several dog bites and later released.
Acting Chief Edward Burman said in a written statement, "This is a very difficult and unfortunate situation. The safety of our officers and community members is of the utmost importance, and any time an officer has to use force, we take it very seriously."
Training for Dog Encounters
Every year, there are countless incidents in which officers conducting regular patrol functions encounter dogs. Some events end with the dog being fatally shot. Many other episodes are innocuous.
Officers need to be ready for any eventuality, so here are some tactical tips for discussion at roll call before your next shift.
1.) Don't fall prey to the temptation to kick a dog away. A dog can latch powerful jaws onto a pant leg and pull even a large officer off balance, opening up an attack in which the officer is grounded and potentially underneath a ferocious animal.
2.) TASERs can sometimes be effective in briefly slowing a dog attack, but that effect is usually insufficient to end one entirely. First and foremost, once the ECD charge is finished, the animal will have no physical ill-effects and is likely to resume their advance. Further, getting both probes into a quickly moving animal with a coat of fur is almost a matter of luck.
3.) Baton strikes may be an effective less-lethal force option (when a strike is sufficient to break a bone such as leg or rib and incapacitate the animal's advance) but a baton strike is such a close-proximity tactic that failure could result in imminent bite injury to the officer.
4.) Oleoresin Capsicum (OC) spray is probably the most effective less-lethal option against dog attack. The OC stream has a stand-off distance of up to a dozen feet and can shut down a dog's advance almost instantly upon contact. The dog's sense of smell—arguably one of the most acute in nature—can be quickly overcome by the OC, causing immediate (but temporary) respiratory problems.
5.) When approaching a location where a problem dog is already known to be present (either through information provided by dispatch or prior contacts with the location of the call), it's not a bad idea to have a CO2 fire extinguisher handy. This tactic should only be considered if two or more officers are at the scene—in essence, carrying a can of fire-retardant is a luxury reserved only for when there are ample personnel to provide extra hands.
Final Words
All dog encounters should be treated seriously—even very small dogs can cause injury that can result in lost time on the job or even the end of a career. Apply tactical thinking (such as "plus one"—if you've got one dog present, assume there is another) to every instance.
Dog encounters can often be controlled through verbal commands—either by the officer or the animal's owner—and this is obviously the most optimal outcome. However, some level of force sometimes becomes necessary for officer safety (as well as the safety of innocents in the vicinity), and when no other alternative is appropriate, officers must be prepared to put an animal down with deadly force—astonishingly, not every agency trains for this.
Law enforcement trainers should provide officers with the tactical intelligence to win ...when a dog tries to have its day.
---
Resources
7 Tips for Safely Dealing with Animals on Patrol
Minneapolis Training on K-9 CPR Offers Reminder for Contacts with Animals