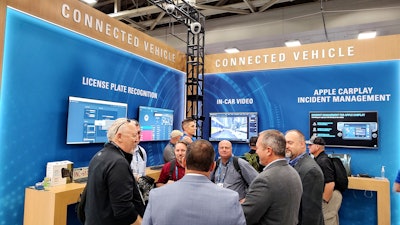 The days of patrol officers standing in the rain and cold at an accident scene may one day be a thing of the past. Technology companies are speeding forward to provide new interactivity between officers and the communities they serve, whether than means issuing e-citations or diagraming a crash scene on a cell phone.
During the International Association of Chiefs of Police (IACP) Annual Conference and Exposition in Dallas, TX, earlier this week I was fortunate to check out many of these new offerings and technologies. Most are devised to drive efficiencies in communication and information management but at the same time target improving officer, and public, safety.
If the time an officer stands roadside at an accident can be reduced, that is a good thing. Well, Carfax for Police can now help with that through Driver Exchange, which taps into both motorists' and cops' abilities to enter information quickly on cell phones. Citizens involved in a crash can even start providing information for an officer before that officer arrives on scene. No need for an officer to wait to have a motorist's license in hand to get started, that work can be at his fingertips immediately. Driver Exchange offers easy data collection with auto-populate, auto-save, GPS, touch diagrams, and drop downs.
LexisNexis Coplogic Solutions also is harnessing data and enabling officers to do more on their cell phones, whether it be issuing an e-citation or diagramming an accident. The goal, by using a suite of products, is to move from reactive, to proactive, and then to a preventative approach. Yes, the plan is to eliminate accidents, in particular fatal ones. It is all data driven starting with automated crash and incident reporting and moving into the capability to slice and dice all information to pinpoint crashes and citations. Don't assume where and when the crashes occur. Assumptions can be misleading, but common. Build the data and let it tell you, then implement changes to prevent those crashes. That is the simple overview, but if you ever have a chance to see it demonstrated you will be impressed.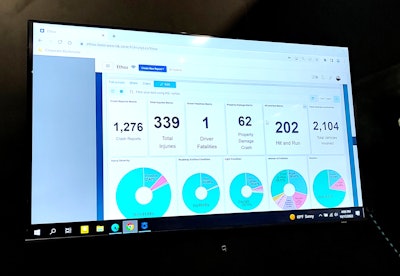 Elsewhere at IACP 2022, Panasonic Connect demonstrated capabilities to keep cops connected. One way to tackle that is with the Toughbook 40, a fully rugged laptop featuring a 14-inch display and a modular design that provides for user-interchangeable components. It was just one of several Toughbooks on display, and the brand is of course well respected throughout law enforcement. But, now with Toughbook Smart Essentials there are added capabilities to make sure your officers' laptops are always working when needed. The cloud-based software tool provides real-time actionable insights into the health and utilization of your mobile devices. Let's say a battery or other part is failing or nearing the end of its lifecycle, you will know in advance and can get a jump on replacing components. Basically, it is like having a built-in IT department covertly working in the background. Panasonic Connect also partners with Hummingbirds AI's Guacamole ID solution that creates screen lock and unlock functions through facial recognition. That means information security, and nobody can sneak a peek at an officer's screen.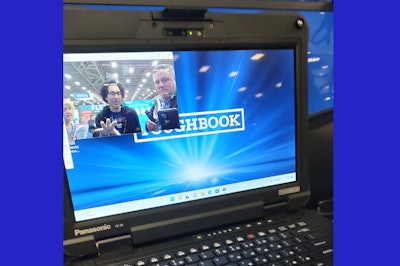 As my technology tour continued, I visited Motorola Solutions to see the company's latest advances for law enforcement. Motorola has now launched Incident Management for Apple CarPlay. It provides officers intuitive, in-dash access to critical information from their agency's existing computer-aided dispatch (CAD) system and is fully compatible with voice control features. When changes and updates to incidents occur, they can stay informed by on-screen notifications that can also be read aloud through Apple CarPlay. It incorporates incident mapping and unit mapping, plus unit status change. That means not only can the officer talk to his patrol vehicle with voice commands, but he also has real-time updates on the incident and other responding units displayed. With all that and more, Incident Management for Apple CarPlay increases the officer's awareness, communication, and safety.