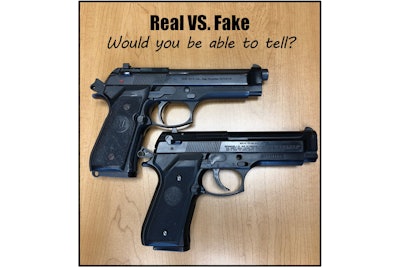 Halloween—the biggest costume party on the planet—is once again upon us, and as kids of all ages prepare for masked merriment police officers across the country get ready for the annual spate of calls for service involving all manner of mischief and mayhem.
For example, in the past few weeks, residents in Oak Park (IL) have been calling police to report that they've had Halloween decorations vandalized or pilfered. Reports indicate that there has been more than $1,100 total value in property damage and/or loss in Oak Park Halloween decorations thus far this month.
Further, fast week in the United Kingdom, police were summoned to the front lawn of a residence that had displayed what appeared to be a real human corpse wrapped in plastic bags. A video of the police response to the scene was posted to social media—viewers were amused but the officer involved failed to see the humor in the event.
Finally, there is absolutely nothing funny about what happened in North Las Vegas on October 10th, when officers responded to calls of a man wearing a Halloween mask and carrying a firearm threatening people in the street. Officers encountered the man, ordered him to drop his weapon, and fired on him when he moved toward a group of innocent bystanders.
The subject—who was later found to have alcohol, THC, and oxycodone in his system—was fatally wounded.
For years now, bad guys have been painting guns in neon colors to look like toys, while so-called toys have become so realistic that they're virtually indistinguishable from the real thing—especially in rapidly unfolding, high-stress situations.
Here are three reminders about "toy" and "replica" weapons as Halloween for officers to consider as Halloween approaches.
1.) Engage the Media and the Community
Police leaders should take time in the days before Halloween to communicate with the citizens about the dangers of incorporating replica weapons into costumes. Every PD in the country has a pair of guns held in evidence—one fake, one real—that are nearly identical to the naked eye. Snap a picture of them together and post that to social media.
In the above example—from an October 2018 Facebook post—the Great Falls (MT) Police Department asks, "If someone pointed each of these guns at you, with only a second to decide, would you be able to tell which one is real and which one is fake? Would you bet someone else's life on it? Would you bet your life on it?"
In addition to social media, reach out to local television stations. They're almost certainly planning to put together a segment on Halloween safety, including the obligatory best times to trick-or-treat, cautions against impaired driving, and recommendations about avoiding candy tainted with Fentanyl.
Encouraging those reporters to include your picture of "fake vs. real guns" on the evening news in advance of Halloween might prevent an entirely different news story in the days and weeks following "fright night."
2.) Use Cover, Concealment, Time, and Space
As with any incident involving someone with a weapon—of any kind, whether real or replica—the use of cover and concealment is paramount. Car doors won't stop bullets, but engine blocks usually will.
Take advantage of whatever may be in the environment that can slow or stop any attacker's advance. Hedges in yards, cars in streets, or furniture in rooms can all be helpful. In an instance where a subject has a blunt instrument or an edged weapon—or some molded plastic fashioned to look like it—distance and obstacles are essential safety features. Use them.
3.) Consider the Totality of the Circumstances
Gather as much information about what you're dealing with before you get there, and be as deliberate as time will allow in analyzing what you know before taking action.
Take into careful consideration the totality of the circumstances at the scene. Why were you called there in the first place? Who made the call to 911 and what did dispatch relay to officers en route to the location? Who else is present? Is there indication of criminal activity having taken place (or taking place as you arrive)? Is the subject a child or an adult? If a young person, are they with a parent (or other kids) or are they alone? Is the subject complying with your commands?
Obviously, if exigent circumstances exist—reports of injury, shots fired, persons in need of assistance, etc.—time is in scarce supply and rapid action must be taken to ensure the safety of everyone around. However, when you have time on your side, use it to your fullest advantage.
Spooky Season Silliness
Halloween is the annual event that not only tolerates but encourages children getting hopped up on processed sweets and dressing up like adults while adults get hammered on distilled liquids and act like children. For the most part, the antics are anticlimactic and the aftermath is little more than the body's morning-after rejection of the overconsumption the night before. But tragedy can—and sometimes does—happen.
The issue of "toy guns" is never more prevalent than it is on Halloween—the temptation for people—ages eight to eighty—to add this element of realism is ill-advised, but incredibly common.
Finally, some of the objects incorporated into a person's costume might actually be real weapons—over the years, officers have seen (and at times, confiscated into evidence) bats, hammers, clubs, swords, machetes, knives, and even chain saws.
Be vigilant and stay safe this Halloween, and always.