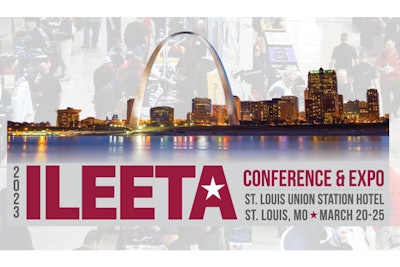 It's now only about one month—five weeks, to be precise—from the "annual pilgrimage to the Hajj" of law enforcement training. The International Law Enforcement Educators and Trainers Association Conference and Expo will be held in St. Louis as it has been for the past several years, in the historic Union Station Hotel.
Somewhere north of 600 of the best law enforcement trainers in North America—indeed, the world—will gather for the weeklong series of seated seminars and sessions, as well as dynamic mattroom and square range training segments.
Some "classes" last all day, some for a half-day, and still others are in two-hour blocks. Added together—a ballpark estimate of 350 two-hour blocks over the duration of the week—there are about 700 hours of available instruction. Of course, a person can't be in more than one place at any one time, so it's really a total of about 40+ hours for anyone packing into every day every single minute they can physically manage.
Note the word "classes" is in quotes here—that's because calling any one of the individual events at ILEETA a "class" is like calling Swan Lake a "dance" or Ride of The Valkyries a "song."
Like either of those two historically significant—and magnificent—productions, ILEETA must be experienced in person in order to be fully appreciated. Right around now, most everyone who plans to attend has already booked their flights, and arranged hotel accommodations, but there's still time to register for the event. Note that certification courses require advance sign-up and some of those are already filled.
Early History
The annual gathering rapidly grew from rather humble beginnings. Harvey Hedden—who was one of the founders alongside the late (great) Ed Nowicki—says that it was during a small use-of-force training event presented by Nowicki's National Criminal Justice Training Council in Rolling Meadows (IL) outside of Chicago that people had the idea that there was a need for a police trainers' organization focused on trainer development.
"We needed to just go back to the foundation of trying to share information—an organization where it doesn't feel like there's anybody that's better than anybody else, that we're equals amongst peers," Hedden says. "Simplicity was really the biggest thing—avoiding bureaucracy—so at that 2003 use-of-force conference the decision was made to form ILEETA. And based on that, we decided to hold the conference the following year in 2004 at the same location, Rolling Meadows."
That first year, about 250 people attended, and organizers quickly realized that the demand for seats far outpaced the supply available at that first location, so the following year it was moved to nearby Arlington Heights. The event continued to grow, and moved to Wheeling in 2007 where it remained until 2013.
When the host hotel began to ask for more commitments (read: an obligatory "hundred-dollar-a-plate-rubber-chicken-banquet-dinner") the event moved to Lombard, and then to Rosemont, and then ultimately landed at Gateway to the West in 2017.
A Smorgasbord
What began as a simple event focused on training related to use-of-force policies, procedures, and practices has evolved into an event covering everything from armorer certification courses to the implementation of officer wellness programs. This year there will be a couple of seminars on the Uvalde school shooting and a handful of instructor development sessions on topics such as improving presentation skills and overcoming "imposter syndrome."
Some sample titles—chosen at random from the course list—include:
4 Easy and Safe Takedowns All Police Officers Should Know
6 Strange Questions that will Change Your Life Forever
Becoming the FTO Your Recruit Deserves
Essential Hand Control Drills from the NFL to the Streets
Media Relations and Marketing for Your Law Enforcement Agency
Medical Response For Firearms Instructors
Planting the Seed for the Next Generation of Law Enforcement
Preparing for Expert Case Evaluation and Testimony
The Trainer's Role in Establishing Extraordinary Agency Culture
The Ukraine Experience: A Pandemic, A War, and Change
There are roughly 120 other titles on the agenda, which leads to an obvious—and serious—conundrum.
Every single attendee at ILEETA is faced with a co-joined set of inescapable—and practically unsolvable—problems: there's just too much to do, too much to learn, and too many places to be all at once.
"There are some departments," Hedden explains, "that'll bring their whole training unit in. They'll make a tactical exercise out of the conference. They'll say, 'You're going here, you're going there, and you're going there. We'll meet up tonight."
Among Equals
One of the most compelling elements to the conference is the tendency for attendees to "check the ego at the door." This is interesting because virtually everyone present is absolutely the "expert" at whatever they do when they're back home—they are Master Yoda of their particular domain.
However, at ILEETA, people tend to have a totally shameless openness to new ideas and different ways of approaching training. There's a raw humility and an unabashed vulnerability that's a little bewildering—at least for anyone accustomed to being among people who know in their bones that they're pretty much the Alpha of their pack—at first.
It's almost like everyone has been given permission in advance to possess the eagerness and unblemished curiosity of a rookie. After about a half day of seeing veteran officers sponging up information like newly minted recruits, that sense of ease becomes even more apparent, and the entire atmosphere becomes downright welcoming.
"That's something we've always stressed," Hedded says. "Nobody's better than anybody else. There's always something you need to learn. We're not looking for best practices. We're looking always for better practices. We're always seeking to do things a little bit better. Don't sit on your laurels. Don't say, 'This is it. This is the end all.' No. Tomorrow we're gonna come up with something even better."
One of the reasons for this is that every person presenting at the conference is also a student for most of the rest of their time at the event. It's common to sit in an early morning seminar next to a person who in the very next time slot is standing at the front of the room teaching an entirely different topic. Then, after lunch, the person who was the student for the two early sessions teaches that entire afternoon.
Some first-time presenters might initially be a little intimidated to , but points out that the culture of the event almost always washes that away.
"We find that there are trainers who come in there are sometimes intimidated and they'll find somebody sitting in their class and they'll find out that that person will come up afterwards and say, 'Wow, this was great.' They'll help each other."
Hedden adds, "We've had so many new instructors, people who were new to training come in and say, it was just amazing how well they were treated and how other trainers helped them develop their programs and their training style. That's really the reputation of our members who really help make the conference what it is."
A "Must"
For people who have attended the conference every year for many years, it's akin to a family reunion. People call it a "recharge"—even the most enthusiastic police trainers get beaten down by the constant drone of anti-police rhetoric, and being among so many like-minded friends and colleagues offers a much needed jolt of energy.
As has been previously stated, ILEETA must be experienced to be fully understood. If you're a law enforcement trainer—or aspire to become one—it's practically a "must." This is especially true for people who have just been assigned by their agency to train in one discipline or another—attending the conference is a practical necessity in order to prepare for that next step in their career.
Speaking of "musts," check back in this space two weeks from today for the opinions of a handful of seasoned ILEETA veterans on absolute "musts" to put on your schedule for this year's event.