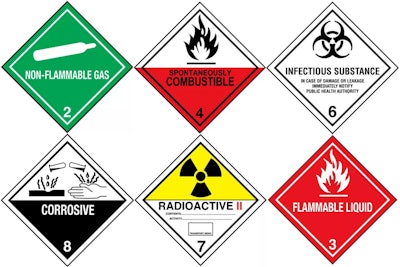 Precisely one week ago, a Norfolk & Southern train comprised of more than 100 freight cars experienced a mechanical failure and derailed near the small village of East Palestine (OH), about 15 miles south of Youngstown near the Ohio-Pennsylvania state line.
Dozens of cars were crumpled in an accordion-shaped pile astride the tracks and amidst the barren winter branches of the adjacent tree line.
After surveying the scene, officials from the National Transportation Safety Board (NTSB) said that among the 20 rail cars on the train carrying a hazardous material called chemical vinyl chloride 10 had derailed and lay precariously on their sides like an overturned toy.
According to the Associated Press, residents in the immediate vicinity were warned to "leave immediately or face the possibility of death" and Pennsylvania Gov. Josh Shapiro urged anyone within a two-mile radius of the site "shelter in place" and "keep their doors and windows closed."
One group of people who didn't have that luxury was the first responders tasked with addressing and ameliorating the threat to the public. This event serves as a reminder about the importance of training in chemical hazard response.
Knowing HAZMAT Basics
First and foremost, officers arriving to the scene of a crash involving a vehicle (such as a train in the instance above, but in the far more likely scenario of a tractor-trailer truck), the initial assessment of the situation will begin with the HAZMAT placard on display.
These signs can include any number elements (such as the four-digit United Nations numbers and other codes in black ink on a white background in the middle of the sign) but the most important to examine immediately are the color/pattern of the sign and the "Class" numeral at the bottom of the diamond.
Let's begin with the colors.
Green—usually accompanied by a graphic of a canister and the numeral 2—indicates nonflammable liquefied or compressed gasses such as carbon dioxide or helium
Blue—usually accompanied by a graphic of a flame at the top of the diamond and a numeral 4—indicates substances such as sodium or potassium that can be dangerous when wet
Red—usually accompanied by a graphic of a flame at the top of the diamond—indicates flammable liquids like gasoline, paint, and other petroleum products
Red & White Stripes—usually accompanied a flame graphic and a numeral 4—indicates solid materials such as magnesium which are inherently flammable
Half Red & Half White—usually accompanied a flame graphic and a numeral 4—indicates substances such as white phosphorous or aluminum that can spontaneously combust
Orange—usually accompanied by a graphic of a detonation at the top of the diamond—indicates explosive agents such as dynamite, blasting caps, and even fireworks
Yellow—usually accompanied by a graphic of an 'O' with flames—indicates oxidizers such as some nitrates and acids, which when met with outside air can combust
Yellow & White—usually accompanied by a symbol of three blades surrounding a small circle—indicates radioactive materials such as certain medical waste
Half White & Half Black—usually accompanied by a graphic indicating a substance spilling onto a pair of hands—indicates corrosive materials that can burn or irritate skin and eyes such as hydrochloric or sulfuric acids
White—usually accompanied by a skull and crossbones pictogram or a graphic a of a dead animal and often displayed in conjunction with a a four-digit UN code—indicates poisonous and/or biohazardous such as industrial chemical precursors
White & Black Stripes—usually accompanied by a numeral 9 at the bottom of the diamond—indicates "miscellaneous" dangerous materials that don't fall into any of the above categories
Next, let's look at Class numbers.
1 indicates explosives
2 indicates gasses
3 indicates flammable liquids
4 indicates flammable solids
5 indicates oxidizers
6 indicates poisons
7 indicates radioactive materials
8 indicates corrosive materials
9 indicates miscellaneous hazards
Note that some classes have a host of subcategories. For example, Class 1 explosives range from 1.1 indicating major explosive capability to 1.6 indicating little to no risk of major explosion. In Class 2, flammable gasses are shown with 2.1 while nonflammable gasses are shown with 2.2 and toxic gasses are shown with 2.3. Classes 4, 5, and 6 also have subcategories.
There are myriad UN numbers—far too many to list here—but they can be vitally important. The most commonly seen on American roads and railways are things like 1203 (a red placard indicating gasoline) and 1263 (a red placard indicating paint).
A green placard may put someone dangerously at ease if they fail to observe the number 1009, which indicates Halon—a colorless, non-flammable gas primarily used for fire suppression—that can cause damage to skin and eye at minimum and even heart attack in extreme cases. Or perhaps a person may be unalarmed by a green placard with the UN number 1005, which indicates Ammonia, a chemical that can quickly be fatal if mishandled.
Using Appropriate Caution
When a major accident occurs—a highway traffic collision involving a tractor-trailer displaying a number of HAZMAT placards—it's almost always the police who are first on the scene.
Step one is obviously to remove any persons from the immediate area, particularly if they are ambulatory and not trapped in a vehicle. But be wary of rushing immediately to render aid to someone unable to escape on their own. Doing so can quickly create another incapacitated victim—you.
Ask and answer a few questions that will allow you to work with an appropriate level of caution. Start by looking at any visible HAZMAT placards and reading them to the best of your ability.
Do you know what they indicate? If not, can you call in to dispatch for reference, translation and/or further information? Is there any indication of fire or smoke or visible leaking liquid or gas? What other public safety disciplines—specifically fire, but also potentially EOD or other experts—have been notified and are en route? Can the situation be adequately contained until their arrival?
Getting Further Training
Finally, for agencies and officers with the available bandwidth—particularly personnel and time—it's wise to send at least some number of sworn officers to formal HAZMAT response training. The closest expertise in this topic is probably among your local firefighter brothers and sisters.
Better still, the Department of Homeland Security offers a one-day (eight hour) course designed to provide police professionals with training on chemical, biological, radiological, nuclear, and/or explosive (CBRNE) incidents requiring law enforcement action. The course—dubbed Intermediate Hands-On Training for CBRNE Incidents: Law Enforcement (HOT-LE)—covers identification of CBRNE hazards, utilization of personal protective equipment (PPE), initiating the Incident Command System (ICS) and other relevant and related topics.
As the incident in Ohio last week clearly shows, law enforcement officers absolutely must have at least some level of training to respond to incidents involving hazardous materials. Properly trained first responders should be able to at least identify the level of danger within the first few moments of being on scene, and potentially be able to then initiate the best and safest possible course of action to protect people, property, and the natural environment.