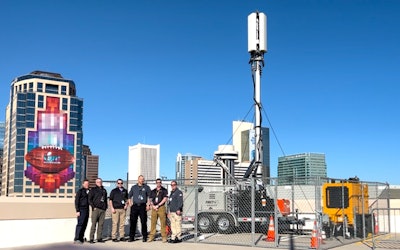 As thousands of fans pack into State Farm Stadium this Sunday for Super Bowl LVII, they will have ample wireless connectivity. More importantly, so will police and other first responders.
For AT&T and FirstNet, it is almost gametime in Glendale, AZ. While their workers may not be on the field, in front of the cameras, or in the limelight, they will move behind the scenes to make sure the cellular network can handle the heavy workload.
That task is not small, nor is it something that is done at short notice and without planning. FirstNet and AT&T have been prepping and planning for the big game long before either the Philadelphia Eagles or Kansas City Chiefs strapped on the pads at the start of the preseason.
Work to get new communications systems in place began about a year-and-a-half ago, according to Fred Scalera, director of government program management for FirstNet. All work was completed well in advance and tested thoroughly.
Inside the stadium, AT&T has deployed more than 2,000 wireless network antennas supported by approximately 12 miles of fiber and power cables. Outside the stadium, 64 outdoor antennas have been installed supported by 15 miles of fiber and power cables. In addition, improvements have been made to provide Band 14, 5G, 5G+ with C-Band, mmWave, and 4G LTE.
Deployable Assets
The FirstNet Response Operations Group, led by a team of former first responders, is onsite and equipped with four Cell on Wheels (COWs) to support fan and first responder communications, four dedicated FirstNet Satellite Cell on Light Trucks (SatCOLTS) on "hot standby," a communications vehicle (CV), and two Compact Rapid Deployables (CRDs) that are staged for extra capability. That means, in the event of an emergency, these assets quickly provide dedicated FirstNet connectivity to first responders for their critical communications needs.
The market COWs are deployed to provide added network capacity. They arrived almost a month ago and have been thoroughly tested with the network. They expand commercial network capacity but also have priority and preemption for public safety. With just one call, SatCOLTS can go live within minutes.
"Today in the stadiums as we all build our network, we do our battery backup. But if it's a transport problem that could have happened from something like a pole being hit by a car that affects fiber, we have our SatColts in hot standby," Scalera explains. "So, they do bring in true redundancy for public safety. We can flip the switch and in minutes it's transmitting Band 14, so that public safety has all communications. Commercial cannot make phone calls. They can't make calls because they're not identified as a public safety user, but they would be able to call 911 if they needed to."
FirstNet also has the CRDs ready to go into action in a highly mobile format if needed.
"So, if it's something outside of the footprint of the hot standbys, where something occurred in another area, we will actually have teams available with CRDs on a rapid response vehicle and then other equipment with a lot of the public safety," says Scalera.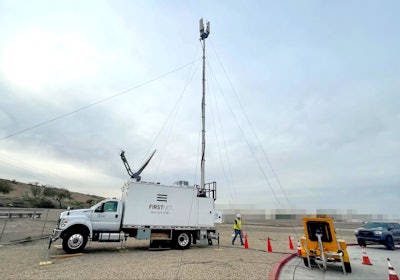 Fiber Installation
AT&T is teaming up with BlackRock to form Gigapower, LLC., a wholesale fiber services provider that will help bring reliable high-speed fiber to areas outside the company's traditional service areas. This marks the first time ever for AT&T Fiber in Arizona.
Last Year, This Year
Last year's Super Bowl was hosted at SoFi Stadium in Inglewood, CA. Sclarea says last year was a more difficult install than this year in Arizona. At each Super Bowl stadium, there are unique challenges.
"SoFi was a private stadium which had some different challenges for us. But because it was a new stadium there was really no starting infrastructure," says Scalera. "Here (Arizona) there was starting infrastructure so it had to be upgraded, not really installed."
Scalera says when the SoFi network was built they had to add macro antennas on the outside of the stadium facing out because of problems trying to put them on towers. That meant installing nodes on the stadium facing outward as well as inward.
This year for the big game at State Farm Stadium, Scalera says it was more of a terrestrial build with towers available as well as adding all new 5G+, mmWave, and C-band within the stadium.
"I like to always say you should have a Super Bowl, because when you have a Super Bowl you're going to have the best network left behind of almost any location in the country," Scalera says.
Next Year
Work has already begun for next year's Super Bowl in Las Vegas, NV. Scalera says the network teams have already started work. The emergency communications teams will have official contact with public safety teams from Las Vegas as they visit this year's Super Bowl. Then, they start meeting in March to craft the plan for next year's big game.