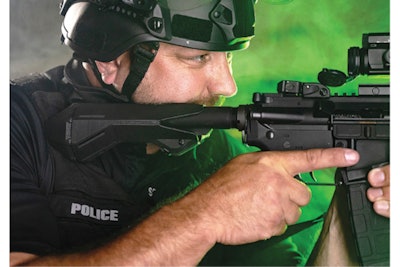 The developers of the new EvolvR (Evolution Rotational Butt-Pad) Combat Stock built their company Valiant Dynamics by the classic entrepreneurial formula. They learned about a problem affecting a specific group of people and decided to produce a solution.
Todd Olson, a partner at Valiant Dynamics, says officers would come up to us at trade shows when we all worked together for a major body armor company and would tell us that their body armor vest was making it hard for them to achieve a proper shooting position. Wearing body armor and other gear with shoulder straps makes it difficult to properly shoulder a patrol rifle with an elongated buttstock, Olson explains.
"Shooters who wear body armor are instructed to move the buttstock outside the pocket of the shoulder," Olson says. "That creates problems with sight alignment and recoil management." More concerning is that some officers are wearing smaller armor than they should so they can properly shoulder their weapons. That helps but it also may expose vital organs to bullets the body armor could have stopped.
Some armor manufacturers have tried to address the issues caused by shooting patrol rifles when wearing body armor by adding or removing features to their carriers and vests. Valiant Dynamics took another approach. It redesigned the buttstock to work better with armor carriers and tactical gear. It even works when the shooter is not wearing armor.
Valiant Dynamics' EvolvR Combat Stock is an adjustable buttstock that fits the patrol rifle buffer tube. It features an eight-position rotating butt-pad so that shooters can choose the position that works best for them. The butt-pad also features a spur for catching the shoulder straps of vests for a more secure shooting position.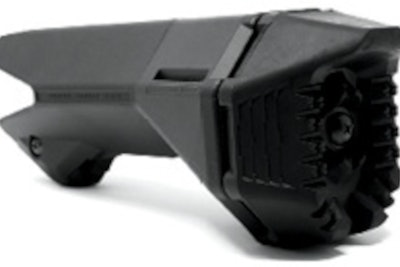 The EvolvR has been a work in progress since 2014 when it was invented by Valiant Dynamics' partner Charlie Raymond. Olson says the product went through a lot of improvements in the time it took to bring it to market. "The EvolvR we released into production was actually revision 11," he says.
As the EvolvR went through its revisions, the Valiant Dynamics team consulted with a number of veteran law enforcement officers and military shooters. The spur on the EvolvR's butt-pad was one of the features of the product that was added with input from officers and military personnel. "It (the spur) was not in the first concept," Olson says. "The benefit of the spur is that it catches on your gear and helps you stabilize your shooting position. That allows you to manage recoil much more effectively for faster and tighter follow-up shots."
Law enforcement officers have responded very positively to the EvolvR, according to Valiant Dynamics. "Our test and evaluation (T&E) program data shows a mid-90 percentile approval rating," Olson says. While it does not look like a traditional stock, when tactical users put it on the weapon system and run it a couple of times they are impressed with its function, and the look really grows on them."
The slimmer and shorter size and shape of the EvolvR can also be especially beneficial vs. a traditional buttstock during tactical operations, according to Olson, who served in the Marines as a scout sniper. "The EvolvR helps you clear rooms much faster," he says. "It's faster because you don't have an elongated stock so you can get on target quicker and there is no need to cant the weapon on the shoulder. "
Valiant Dynamics' EvolvR Combat Stock lists for $89.99 and is made in the United States. For a limited time you can use code LEO25 to save 25%.