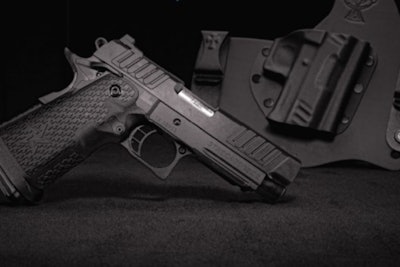 CrossBreed Holsters, a leading manufacturer in the category of concealed carry, has extended its EDC holster line up with models compatible with Staccato's C2 and P 9mm handguns.
The Staccato C2 is a compact 9mm semi-auto built on a rugged alloy frame mated to an aggressively textured polymer grip. The Staccato P is a duty-grade variant with a slightly extended length and increased round capacity. Both models are ideally suited for personal defense and duty carry.
"We have experienced a large demand for holsters covering the Staccato pistol line," said Nathan Engelking, executive vice president of marketing. "Staccato has clearly cemented itself as the top 2011 pistol manufacturer, and CrossBreed has spent considerable time fine-tuning our process to be able to offer our holsters for the Staccato family of handguns."
Crossbreed is producing several of its most popular holster systems for the Staccato C2 and P models, including IWB, OWB, and modular holsters and magazine carriers: SuperTuck, SnapSlide, DropSlide, SuperSlide, OWB mag carrier, Tuckable IWB mag carrier, Accomplice Mag carrier, Bedside Backup systems, Pack Mat systems, Ohai holster and mag carrier, and, for the Staccato P, the MaxOhai Modular Holster.
For more information on the Crossbreed holster systems for the Staccato C2 and Staccato P or the company's Lifetime Warranty and Try It Free, Two Week Guarantee, visit CrossbreedHolsters.com