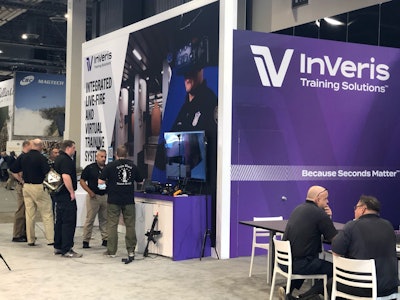 With the footprint of the annual Shooting Hunting and Outdoor Trade (SHOT) Show growing to more than 18 acres of exhibit space and 13.9 miles of aisles in 2022, it has been proclaimed as the largest SHOT Show ever. Within that 18-acre expanse a variety of law enforcement gear, tools, and weapons were displayed or demonstrated. This is a look at some of the items we found interesting at this year's show.
AMMUNITION
Federal Premium launched 30 Super Carry as a gap-filling round nestled between .380 ACP and 9mm. The new caliber provides more capacity than a 9mm in similar size handguns yet delivers more effectiveness than the .380 cartridge often found in the smallest carry options. According to Federal, the new .312-inch diameter round delivers equal muzzle energy and performance to 9mm.
Nosler debuted the Assured Stopping Power (ASP) ammo line that spans from 115-grain 9mm up to 230-grain .45 ACP. The new ASP line evolved from the company's Match Grade ammunition and added an expanding hollow-point bullet designed for duty and defensive use. The ASP jacketed hollow point provides reliable expansion at a range of impact velocities and controlled expansion and penetration.
APPAREL AND GEAR
Body Armor Vent provided a look at how the I.C.E. (Increased Combat Effectiveness) panel allows air to flow between the armor wearer's carrier and his or her t-shirt. The vertical air channels and pass-through air flow design of the EVAP technology keep the air moving and the sweat evaporating.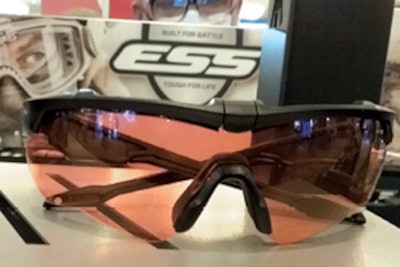 ESS Eye Pro displayed several variants of CrossBlade Eyeshields with LPL-5 Laser Protective Lenses that provide military-grade ballistic protection and can help prevent eye injury by blocking green lasers. Available as an accessory or full kit, ESS LPL-5 Lenses have an Optical Density (OD) of 2.5 that blocks 99.7% of 532nm wavelengths from visible green lasers.
Vertx introduced the Ardennes line of bags. The new line features four different bags, each with European styling and more of a premier finish. The bags are about conforming to functionality, whether going to the office, on a trip, or to the range. The bags have a synthetic wax outer coating that is promised to be long lasting.
ARMOR, HELMETS AND SHIELDS
Aegix Global introduced a new NIJ Level III version of the award-winning, expandable Swift Shield. Swift Shield employs a unique origami folding design to collapse down to the size of a notebook computer. When fully deployed, it offers approximately six square feet of ballistic protection but weighs 13.5 pounds and is only .47 inches thick.
BlueRidge Armor showed its Vengeance series of hard armor ballistic shields with an ambidextrous weapon mount design and threat Level III Plus rifle protection. The WMX3RF is a full-cut platform while the WMX3RTF is tapered. Both feature a flat-panel ambidextrous weapon mount, a straight bar handle, custom-molded arm pad, and a heavy-duty forearm strap. Both include the patented Vengeance viewport.
Busch Protective is the sole provider to the Department of Justice for ballistic head protection systems with the AMP-1TP helmet, which was displayed at SHOT. Certified to the new DEA-FBI Ballistic Helmet Protocol 2019-V1.0, the AMP-1TP is a modular system capable of satisfying the stringent and complex needs of the Federal Bureau of Investigation, United States Marshals Service, Drug Enforcement Agency, and Bureau of Alcohol Tobacco and Firearms. The helmet features removable shock absorbing and comfort pads, a 4-point harness, adjustable wheel-dial, and a Picatinny rail system on both sides for add-ons like cameras, flashlights, and other accessories.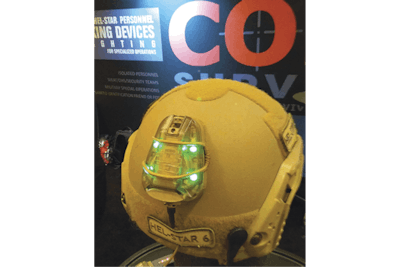 Core Survival Inc. displayed its Hel-Star 6 Gen III helmet light. The LE Tactical version is programable for green flashing, red flashing, NIR infrared flash/dim, and NIR infrared steady to offer several options a team can use to indicate friend or possibly even mark an injured member with the red flashing function.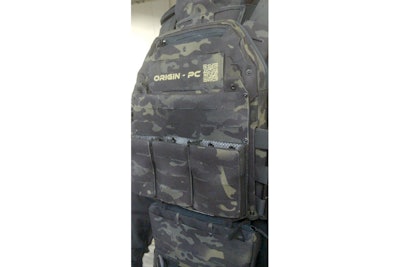 Point Blank Enterprises pitched the Origin System by Paraclete that applies new innovative ways to reduce bulk, maximize adaptability, improve strength and durability, and allow you to change mission load outs as often as threat levels do. Components include a vest with top and bottom plate loading with zipper closures and covered Kwiq-Clip buckles that allow for easy don/doff.
The Armor Shop debuted a new armor plate that when combined with soft armor provides protection against rifle rounds. The company's ICW plate is lightweight at 2.4 pounds and is 0.6 inches thick. The ICW Plate is covered by a 15-year warranty.
FIREARMS AND ACCESSORIES
Civilian Warfighter promoted the Cerberus, a non-lethal visual disrupter that provides the ability to "steal the vision of your suspect/target and provides you precious time and situational awareness." The Cerberus evolved from the same NLVD currently in military use and easily mounts to a handgun, rifle, or less-lethal launcher rail.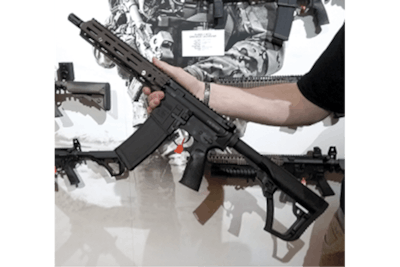 Daniel Defense introduced the soon-to-launch RIII line of rifles. The new DD4 lower is now fully ambidextrous and paired with the all-new RIS III rail system that was modeled after the infamous RIS II that was developed for SOCOM. The RIS III is an M-LOK rather than a picatinny quad rail and includes the same six bolt lock-up found on the RIS II. The RIII family will be introduced in four configurations and available for purchase in Spring 2022. RIII rails and RIII uppers will be available later in the year.
FN America displayed the new FN 303 Tactical Less Lethal Launcher. The new, shorter air tank and compact 7.6-inch barrel transfer weight balance further back, increasing officer control while reducing fatigue. The FN 303 Tactical delivers the .68-caliber fin-stabilized projectiles with speed, accuracy, and safety. Officers can quickly change from inert, marking impact, or irritant projectiles, with a clear view of projectile type and count in the 15-round drum.
KelTec debuted the P15, a striker-fired polymer-framed handgun that only weighs 14 ounces and is a mere .875 of an inch thick. The double-stack 9mm carries 15+1 and features a fiber optic front sight, adjustable rear sight, ambidextrous safety and magazine release, and a gator grip texture for stable handling.
Mossberg debuted the MC2sc, a new micro-carry 9mm. The MC2sc sports 11+1 capability with the flush fit magazine and the option for 14+1 with an extended mag. The small carry gun has a flat profile trigger with about a 5.5-pound pull and an integrated trigger blade safety. At just 1.11 inches wide and tipping the scales at 25 ounces loaded, it is positioned as a concealed carry sidearm.
Smith & Wesson launched a new micro-carry single-action pistol, the CSX, chambered in 9mm. The flat-faced trigger is touted as crisp, as you expect from a single-action-only. The aluminum-frame CSX is ready for a wide range of shooters with polymer interchangeable backstraps and ambidextrous manual thumb safety, slide release, and magazine release. Capacity is 10+1 or 12+1, depending on magazine choice.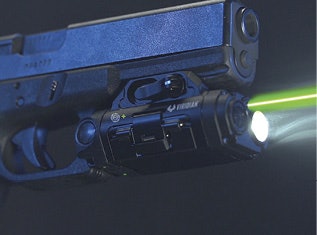 Viridian Tactical displayed a variety of weapon-mounted video cameras, including integrated light or light and laser models. Viridian previewed the launch of the Fact Duty +, a new addition to the line that features 1920 X 1080 HD video capture, a 112-degree field of view, built in microphone, and 32GB storage built directly into the battery. The Fact Duty + offers a 500-lumen wide angle tactical light and a 5mW green laser sight. Instant-On provides continuous camera operation independent of user controls as soon as the firearm is drawn from its holster.
XS Sights displayed a wide offering of products at the show, including new sights for smaller Glock models. The company showcased the suppressor-height night sights to fit the 42, 43, 43x, and 48 MOS.
HOLSTERS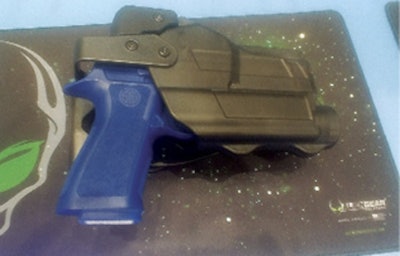 Alien Gear had staff eager to demonstrate the Rapid Force Duty Holster. The holster can be configured for Level 2 or Level 3 retention. The retention mechanism was engineered to provide the highest level of security while maintaining an incredibly fast and fluid draw. The patented Gross Motor Response (GMR) retention control system provides a draw that results in a perfect grip, even under stress.
DeSantis Gunhide introduced the Uni-Tuk, a new IWB concealed carry holster made from the company's Pegasus Kydex. The IWB holster marries a precision molded Kydex front to a back component that is all synthetic and a "breathable" platform. The Uni-Tuk features multiple points of tensioning for a customizable fit and is equipped with the proprietary Tuckable 360 C Clip, which can be adjusted for both height and cant with 360 degrees of rotation.
High Speed Gear promoted the CT3, a Level 3 holster that uses friction, an ejection port lock, and a hood that must be released before the firearm can be drawn. The CT3 is designed with the intent that a master grip is achieved before fully withdrawing the weapon. This combined with the autolocking ejection port lock and the intuitive self-activated hood system makes this one of the fastest Level 3 holsters available on the market today.
OPTICS
EoTech is launching its new EFLX Mini Reflex Sight (MRS) and several were mounted on handguns on display. The heavy-duty aluminum housing is tough and expected to live up to the EoTech durability reputation. It is available with a 3 MOA or a 6 MOA dot. On the flip side of the same display, EoTech featured the new Vudu 1-20x28 FFP made with 34mm one-piece aircraft aluminum and featuring a single-piece eyepiece, a removable throw lever, a low-profile elevation turret with push/pull locking system, and a capped windage turret.
Holosun has released the new RML (Rail-Mounted Laser). The RML is a very manageable 1.97×1.18×0.91 that weighs 1.3 ounces. Made from a polymer housing, it comes IPX8 rated for water resistance and 2000G for shock resistance. The Class 3R laser outputs <5mW with the ability to choose between green or red. Green displays at 520nm and red at 635nm. The laser can be adjusted by 4 MOA per click and can travel a total of +/-60 MOA.
TOOLS AND LIGHTS
Otis Technology launched the Otis Elite Pistol cleaning kit for .22 caliber, 9 mm, .40 caliber, and .45 caliber. It is complete with all the regular assortment of patch pullers, brushes, and more. Otis had the foresight to even include an 8-in-1 Pistol T-Tool and Glock Magazine Disassembly Tool. Also included is a smaller, round kit you can slip into a pocket and carry with you.
Streamlight promoted the BearTrap, a rechargeable multi-function work light that provides three flood settings of 2,000, 1,000, or 575 lumens with a range of run times from 2.5 hours on high up to 8.75 hours on low. The Beartrap's spot feature delivers 1,000 lumens on high and steps down to 450 and 325 lumens. On the lowest setting, the spot will run for 12.5 hours. The Li-Ion battery recharges in 5.5 hours and the light is 1-meter impact tested and IPX4 water resistant.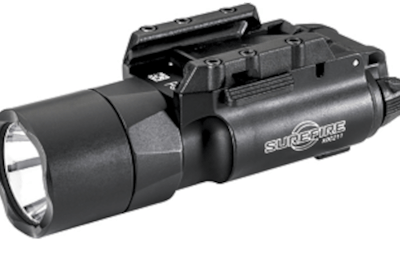 SureFire introduced the X300T-A and X300T-B turbo high-candela handgun lights that boast peak beam intensity of 50,000 candela, 500 lumens, and a throw of 447 meters. Both are made with a high-strength aerospace aluminum body that is mil-spec hard anodized for superior toughness and is O-ring and gasket sealed to make it weatherproof to IPX7 standards.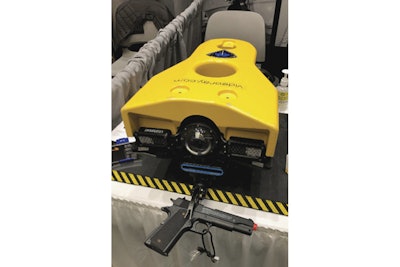 VideoRay displayed its new seven-thruster Mission Specialist Defender submersible ROV, which can submerge to a depth of 3,280 feet. It uses interchangeable, modular components residing on a single intelligent network. This topology provides an extremely flexible and customizable platform that can be adapted to target specific missions.
Zistos exhibited several items including the ZistosHD Tactical Pole Camera System. It is a state-of-the-art encrypted wireless system that supports true 1080P HD, low latency video, and can be viewed on a laptop, tablet, or smart phone. This system design uses interchangeable modules that can be switched in the field, maximizing its suitability for use in many different tactical applications and operations.
TRAINING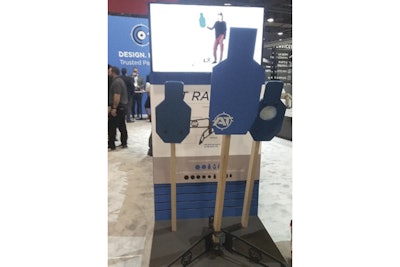 Action Targets introduced the PT Ranger, a tough, portable, and rapidly deployable steel target base. The PT Ranger requires no setup tools. Its modular parts are easily replaceable, increasing its life from damage sustained in harsh shooting environments. The Ranger can be used with the existing lineup of the PT Scout head plates. Action Target is also introducing five new steel silhouette targets exclusively designed for the Ranger.
Bear Training Solutions displayed the Broco Breaching Door, a training system that features four lock positions with wood dowel locks for explosive and mechanical breaching practice and a full 80 inches of vertical pry space. The door can be set for inward or outward swing.
InVeris Training Solutions launched the QuikTurn 360 and the QuikTurn 90 Turning Target Systems. Both are designed for random and concealed placements throughout an indoor or outdoor shooting range. The QuikTurn targets can be controlled in unison/collectively or individually controlled and feature a 90-degree expose/conceal time in less than .5 seconds.
Troy Acoustics showed examples of shooting-range acoustic materials and design. For anti-ricochet and anti-splatter, the UL tested Troy System of Troy Boards and Troy Wool is the highest rated noise reduction solution. Troy Acoustics offers full acoustical design and construction, or it can supply materials to a contractor. The company's booth also delivered a video presentation of how Troy Acoustics successfully quelled public sentiment against a law enforcement range with a noisy reputation when the company softened the sound impact on the surrounding neighborhood.
Umarex promoted the T4E HDR .68 paintball marker for force-on-force training. It is powered by a single 12-gram non-threaded CO2 cartridge housed in the grip and is equipped with T4E's Quick Pierce CO2 cartridge puncturing system. The HDR .68 revolver holds five .68 caliber rubber, paint, or dust projectiles and launches them through the double-action pull of the trigger. The three included rotary magazine disks allow for fast and easy reloading. It has two Picatinny rails, one on the top strap and one below the barrel .
VirTra Inc. announced a new collaborative curriculum, Red Dot Optic Training & Sustainment. It includes International Association of Directors of Law Enforcement Standards and Training (IADLEST) certified coursework and 21 drills to master the use of the red dot sight. The curriculum was written in collaboration with Victory First and Aimpoint. Because of the wide usage of red dot sights and how increasing numbers of law enforcement agencies are using them, VirTra wanted to work with Aimpoint to develop training so law enforcement officers can better practice adjusting to the use of red dot sights.