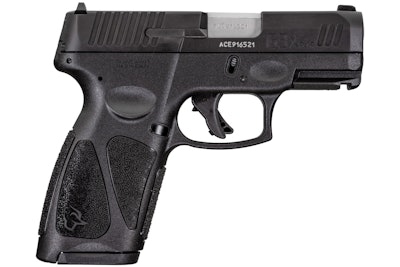 Taurus has introduced the new G3X 9mm pistol at this week's Shooting Hunting and Outdoor Trade (SHOT) Show.
The new Taurus G3X represents a design blend of two of Taurus' more recent semi-auto pistols—the G3 full-size 9mm and the G3C compact 9mm.
In listening to consumer input about the G3 and G3C handguns, Taurus says it identified the need for a pistol that is both slim and easily concealed in the spirit of the Taurus G3C yet features higher capacity and a more substantial grip length for shooters with larger hands or who simply prefer a fuller grip without giving up everyday carry comfort or concealability. The result is the new Taurus G3X in 9x19mm.
The Taurus G3X is built on a similar full-size frame as the G3, with a grip width of 1.1 inches and an overall height of 5.2 inches with the included 15-round magazine. This grip is an ergonomic and functional blend of size, backstrap contour, and aggressive stippling that provides the shooter control and retention under any shooting condition. The key difference is the overall length of the Taurus G3X. At 6.5 inches, the Taurus G3X is more than three-quarters of an inch shorter than the G3, putting it on par with the compact G3C model and offering a lower profile for concealed carry duty.
With its shorter length relative to the full-size Taurus G3, the new G3X is compatible with G3 and G3C T.O.R.O. slide kits. The latter is the perfect upgrade option (available through Taurus USA) for those who wish to install a red dot optic. The T.O.R.O. system features an optic cut with assorted mounting plates that are compatible with common aftermarket electro-optics. Also, the Taurus G3X comes with a dovetail cut for the rear sight, allowing consumers to install popular aftermarket tritium night sights for enhanced low light performance.
Taurus G3X Specifications
Caliber: 9mm Luger
Capacity: 2x15 (compatible with Taurus G3 17 rounds magazines)
Firing System: striker
Action Type: single action only with restrike capability
Front Sight: fixed white dot steel
Rear Sight: serrated drift adjustable
Safety: trigger safety, firing pin block
Frame Size: compact w/lengthened grip
Frame Material: polymer
Slide Material: matte stainless steel
Slide Finish: black Tennifer
Barrel Length: 3.2 in.
Overall Length: 6.3 in.
Overall Width: 1.2 in.
Overall Height: 5.2 in. (15-round magazine)
Weight: 22.60 oz. (w/15-round magazine)
MSRP: $342.98
To learn more about the new Taurus G3X, visit TaurusUSA.com.