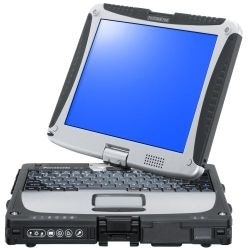 Panasonic Solutions Co. has announced a series of upgrades to its Toughbook 19 fully-rugged convertible tablet. The updated device features a standard voltage processor, increased RAM and hard-drive capacity as well as speed, a brighter sunlight-viewable screen and more.
Powered by the second generation Intel Core i5-2520M (2.5GHz) standard voltage processor with Intel HD 3000 graphics, the Toughbook 19's start-up time is more than 20 percent faster and overall CPU and graphics performance have also been improved compared to the previous model. This is also the first time a standard voltage CPU and Intel HD 3000 graphics have been included in the Toughbook 19.
The new device also comes standard with 4GB RAM, expandable to 8GB, and runs a 32 bit or 64 bit Windows 7 professional operating system. A 320GB 7200rpm hard drive is standard, with an optional 128 or 256GB solid state drive available.
"The rugged Toughbook 19 convertible tablet has been on the market for five years, providing reliable connectivity to users in some of the most demanding environments including emergency services and utilities," according to Kyp Walls, Panasonic's director of product management. "With the new Intel processor and enhanced functionality, our users will benefit from improved performance and outdoor screen visibility without sacrificing battery life."
The 10.1-inch XGA touchscreen on the Toughbook 19 now features a TransflectivePlus display, which, in addition to an adjustable LED backlight, harnesses the rays of the sun by using an internal reflecting layer to illuminate the screen and can generate up to 6000 nit of transflective brightness equivalent under 200K lx environment. This exclusive technology comes standard with anti-reflective and anti-glare screen treatments plus a circular polarizing filter for an unparalleled outdoor viewing experience. The LED backlight can deliver as little as 1 nit, useful in dimly lit areas or for concealed nighttime use, which is critical to the safety of military and public sector users.
The Toughbook 19 also includes a new dashboard designed to conveniently customize each Toughbook to the user's preferred settings, providing a user-friendly quick launch interface for common functionalities such as brightness, volume, and tablet button backlighting. The dashboard also allows easy management of the device using helpful tools, such as the popular Panasonic Power Plan extension utility and PC information viewer utility.
The Toughbook 19 offers a variety of embedded wireless technologies, including Wi-Fi 802.11a/b/g/n, Bluetooth 2.1, optional GPS receiver and optional Gobi2000 3G mobile broadband technology from Qualcomm. The device is certified on the AT&T, Sprint and Verizon Wireless 3G networks, allowing workers to stay connected virtually all of the time. With certifications coming later this year, the Toughbook 19 will also offer embedded support for 4G networks.
The upgraded Panasonic Toughbook 19 will be available worldwide starting September 2011. In the U.S., the Toughbook 19 is expected to be available starting at an estimated street price of $3,349 from authorized Panasonic resellers.