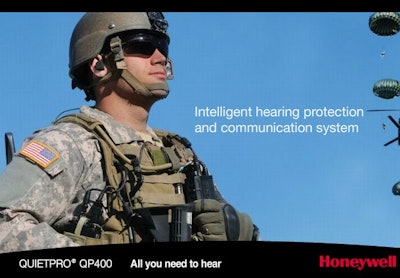 Honeywell First Responder has introduced the QuietPro QP400, an intelligent hearing protection and communication systems for military and tactical operations.
The QuietPro QP400 was introduced at the AUSA 2011 annual meeting and exposition in Washington, D.C., Oct. 10-12. The QuietPro QP400 provides soldiers with smart personal hearing protection, situational awareness enhancement, and the clearest incoming and outgoing communication throughout the full spectrum of training and deployment operations.
"As a Tactical Communication and Protection System (TCAPS), the QuietPro QP400 enables soldiers to communicate in combat scenarios without compromising their ability to hear their natural surrounding and their tactical communications" said Brian Burns, Lieutenant Colonel (Retired), US Army, Business Development Director for Government Programs, Honeywell First Responder Products. "QuietPro QP400 delivers the clearest in-ear communication essential for understanding and adapting to rapidly changing environments. "On the battlefield we were always taught to 'shoot, move and communicate.' Half of communication is the ability to hear. QuietPro QP400 allows the soldier to hear in all situations and by protecting their hearing they are able to accomplish the mission and come home safely."
The new Honeywell QuietPro QP400 improves a soldier's two-way communications and speech intelligibility, especially in high noise. Its patented digital Active Noise Reduction (ANR) technology delivers revolutionary results by continuously monitoring ambient sound, and reducing the levels of noise across the spectrum of frequencies to acceptable levels in real time. This allows soldiers to hear ambient sounds at safe levels - even in intermittent and impact noise - and provides increasing low frequency attenuation for clear, intelligible communications.
On foot patrol, mounted in a vehicle, or in the air, QuietPro QP400's new quick connection/disconnection cables allow full jump-on/plug-in transition on all mobility platforms. The QuietPro QP400 now features a four-channel/intercom capability through a smart communications hub, and adapts to the widest range of radio and intercom platforms, enabling soldiers to be networked and connected during all stages of their mission.
The QuietPro QP400's new push-button interface provides quick and easy access and control of functions while its one-side cable design eliminates excess connections. Its new voice feedback menu walks the user through each function for easy operation, and control of system function and modes.
Since entered into operational service, more than 63,000 of the original Nacre QuietPro intelligent hearing and communication system have been fielded across 13 countries. More than 40,000 are in daily service with the U.S. Army, U.S. Marine Corps, U.S. Air Force, US Special Forces and U.S. Government agencies, and is the only in-ear intelligent hearing protection and communication system approved for the U.S. Army Nett Warrior soldier modernization program.
The QuietPro QP400 intelligent hearing protection and communication system from Honeywell First Responder will be on display at AUSA, and will be available from military and tactical distributors in the United States.