The Los Angeles County Sheriff's Department (LASD) and Raytheon Company have begun equipping patrol vehicles with mobile data computer systems that will allow patrol deputies to tap into wider data sources from their cruisers.
The LASD will equip patrol cars, motorcycles, prisoner transport vehicles and SUVs with Raytheon-integrated computer systems that were unveiled today at a news briefing in Los Angeles.
"Raytheon worked closely with our sheriff's deputies, engineers and technicians to integrate the latest public safety technologies and capabilities into our vehicles," said Sheriff Lee Baca, whose agency is the largest sheriff's department in the nation. "This new mobile data computer system will greatly increase the efficiency of deputies in the field, providing them more knowledge at their fingertips, and enabling them to do more for the public now and in the years ahead."
The computer systems will provide more than 2,400 field units with greater access to new public safety technologies. Deputies will now be able to utilize the Sheriff's Data Network, Intranet and other criminal databases from their vehicles. The systems provide access to law enforcement information including fingerprint databases and give officers expedited GPS routing to emergency calls.
The new system also allows deputies to use in-field fingerprint readers that connect to the system via a wireless router installed in the vehicle. The upgrade will give deputies the ability to retrieve faster results from fingerprint scans of subjects.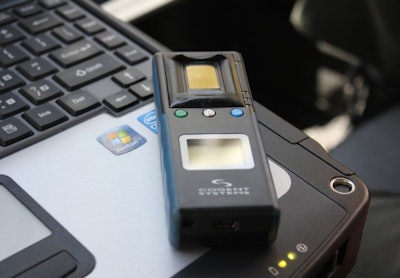 "Linking the complex hardware and software in the vehicles required a skilled systems integrator like Raytheon," said Daniel J. Crowley, president of Raytheon Network Centric Systems. "That expertise is what makes our company a leader in the public safety market. As a significant employer in Los Angeles County, Raytheon has a vested interest in improving public safety for the county."
The agency will have the added benefit of using Raytheon's Public Safety Regional Technology Center, which is opening in Downey this winter, to maximize the capabilities of the system as new technologies become available. Additionaly, the Center for Public Safety Network Systems at UCLA will create a collaborative research forum that brings together academia, industry and public safety agencies.
The $19.9 million investment with Raytheon by the LASD and the County of Los Angeles will dramatically upgrade the 1987 mobile digital technology now being used in the cruisers.
By Paul Clinton
Related: