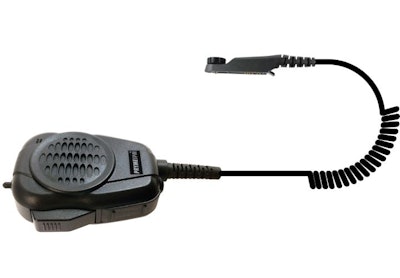 Pryme Radio introduced several new rugged radio accessories, including an upgraded cable, connector, and Trooper microphone at the International Wireless Communication Expo (IWCE).
The company developed the Rino super rugged cable, after data showed that 90% of equipment failures are due to cable breakages.
"We analyze returns every month to determine how we can improve our offerings," said Dave George, Pryme's president, in a release. "We noticed that cables take a lot of abuse in the field. So we began developing and testing new ways to reinforce cables using our specially calibrated bending machine."
Typically, used cables fail after at least 20,000 bends, which leaves the mic unusable. Pryme's new Rino super rugged cable can withstand as many as 200,000 bends, according to the company.
Pryme also developed the Hydra radio connector to be slimmer, less bulky, and with a larger knob for easy on and off.
"No one has come up with a truly new type radio connector in 25 years," George added. "We decided to create a fully molded model so that is 100% waterproof. Our new Hydra technology will be on the market in 30 days."
Pryme also developed two new models—the Trooper II weatherized speaker microphone and the Storm Trooper. The Trooper II is better sealed to prevent dust and moisture from getting in. The Storm Trooper is fully submersible, meets IP 67 standards, and has a handy high-low volume switch. Both feature a noise-canceling microphone.