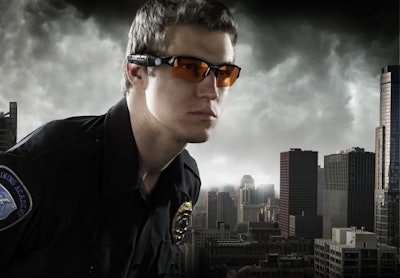 TASER International, Inc. has begun shipping its Axon Flex on-body cameras to law enforcement agencies who will use the recording system to seamlessly capture video evidence from the officer's perspective.
The Axon Flex DVR camera, introduced in February, can mount to a pair of Oakley Flak Jacket eye wear, allowing greater tactical awareness for officers and agencies. In addition to mounting to the Oakley Flak Jacket eye wear, Axon Flex can also be mounted on an officer's collar, epaulet, ball cap, or helmet. The camera and rapid grip magnetic clip weigh only 15 grams.
"There is nothing more compelling, in terms of knowing the truth, than video immediately recorded during a rapidly, evolving event and as seen from the officer's perspective," said Thomas Streicher, retired chief of the Cincinnati Police Department.
The Cincinnati PD tested the original AXON system during Chief Streicher's tenure. Officers provided feedback that the company incorporated in the new second-generation Axon Flex system.
In February, TASER announced it had received pre-orders and upgrade orders for more than 590 Flex units from the Bay Area Rapid Transit Police (BART), Fort Worth Police Department, Niagara County (N.Y.) Sheriff's Office, and University of Central Florida Police Department.
To complement the camera solution, TASER provides its Evidence.com cloud-based service that allows agencies to manage evidence collected via Axon Flex. The base Axon Flex camera retails for $699. A variety of accessories are available.
Related: