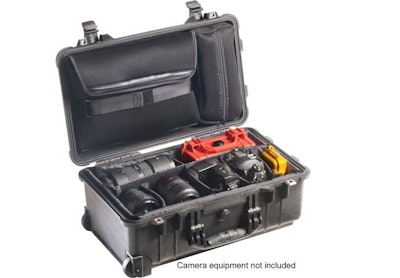 Pelican Products introduced the 1510SC and 1560SC studio cases that are designed to protect laptops, lenses and other sensitive photography and video equipment.
The 1510SC and 1560SC lids feature a detachable neoprene laptop sleeve and accompanying accessory pouch that gives travelers immediate access at Transportation Security Administration (TSA) checkpoints and accommodates most laptop computers up to 15.4 inches (1510SC) and 17.4 inches (1560SC). Both cases offer a main compartment with padded dividers for infinite customization and are also available as the 1510LFC and 1560LFC (Laptop Foam Cases) with standard Pick N Pluck foam.
The dimensions of the 1510SC are compliant for most airline overhead bins with nearly 1,700 of cubic inches of usable internal storage space. The 1560SC is based upon the maximum overhead bin size allowed by some airlines and offers nearly 2,900 cubic inches of internal usable storage space. Both cases sport stainless steel ball bearings, polyurethane wheels and an extension handle, as well as rubberized front and side grips for maximum grip comfort. They also feature stainless steel, reinforced padlock protectors to defend against cutting and theft.

Like all Pelican Protector Cases, they both have an open cell-core construction that helps them protect sensitive equipment in some of the most extreme conditions.
Additional standard features include a lid equipped with a polymer o-ring for a dust and watertight seal, and an automatic pressure equalization valve that stops moisture from entering the case, preventing vacuum-lock so the case opens easily at any altitude. The cases also feature double-throw latches that have been tested to a failure threshold of nearly 400 pounds, but open with a light pull.
Pelican cases can be spotted by their trademarked "dual band" design. The 1510SC retails for $379.95; the 1510 LFC retails for $330.95; the 1560SC retails for $485.95; and the 1560LFC retails for $400.95. They are available in black or desert tan.