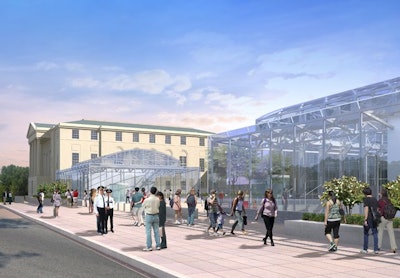 The National Law Enforcement Museum, which currently is under construction in Washington, D.C., has received a $15 million contribution from Motorola Solutions Inc. and the Motorola Solutions Foundation, the charitable arm of Motorola Solutions.
The funding provided by Motorola Solutions will help support the museum, which will tell the story of American law enforcement through interactive exhibits, historical artifacts, research, and diverse educational programming. The contribution announced today brings the total to $18 million that Motorola Solutions and the Motorola Solutions Foundation have provided to support the museum's public education effort.
In 2000, Congress and President Bill Clinton authorized the establishment of a National Law Enforcement Museum in Washington, paving the way for the nation's largest and most comprehensive museum honoring the duty and sacrifice of America's law enforcement officers.
The museum, which is scheduled to open in 2015, will incorporate cutting-edge interactive exhibitions and state-of-the-art audio and visual programs to bridge the gap between law enforcement's past and present. It will also provide a public forum for discussions, lectures, and conferences; conduct education programs to chronicle the gripping accounts of the profession's most defining moments; and offer in-depth research opportunities in law enforcement history and safety.
The Motorola Solutions Foundation is contributing $10 million in cash during the next few years to support the museum's construction and programming costs. In addition, Motorola Solutions is donating $5 million in products and services to enhance and complement the communications, visitor experience, and staff capabilities at the museum.
Motorola is the First Founding Partner of the National Law Enforcement Museum. In 2004, the company provided a $3 million Leadership Gift as part of the museum's "A Matter of Honor Campaign." Today's contribution brings the total amount of Motorola's support to $18 million.