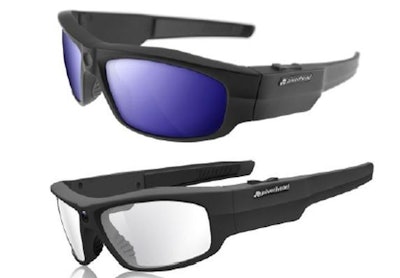 Midwest Digital has introduced video-recording eyewear for law enforcement in four styles, including the Pivothead Aurora and Pivothead Durango. Sixteen different models can be ordered with polarized or non-polarized lenses.
The eyewear arrives with a point-of-view camera that captures high-def video in three formats—1080p, 720 at 30 fps (frames per second), and 720 at 60 fps. The 8 megapixel camera also captures still frames with the flip of a switch.
The footage can be downloaded from on-board internal memory via a USB connection to a PC, Apple laptop, or iPad. The device's 8 GB of storage allows an officer to record up to an hour of audio and video. The rechargeable battery sustains up to an hour of operation.
The Durango style can be used with prescription lenses, and the Aurora styles are non-polarized. The optional Pivothead Hotspot (Air Pivothead) will interface to the internet after downloading the material. This simple device looks for a 3G or 4G network and locks to the signal providing connection for the hotspot for downloading. The Air Pivothead will interface to the iPad, iPhone, or Android device with an app from Pivothead.
Midwest Digital will soon introduce the Vacuum, a device that will draw memory from the eyewear's on-board storage and transfer the data at a high speed. The battery strap will increase battery life to over two hours of record time. The eyewear retails for $349.