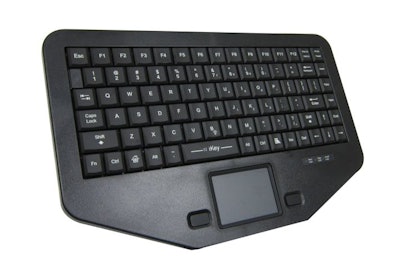 Rugged keyboard maker iKey has released the SWB-86-TP keyboard for public safety users that need a compact keyboard for high data-entry.
The SWB-86-TP, which arrives in the WaterBoard line, arrives with red LED backlit keys and laser-etched legend for low-light environments. It features an integrated touchpad and USB interface.
The SWB-86-TP can be paired with iKey's new line of rugged, daylight-readable, touchscreen displays, which include the 12.1-inch IK-FPMT-12-1000. The SWB-86-TP is fully sealed to NEMA 4X specifications, making it resistant to accidental spills, easy to clean, and impermeable to corrosives, according to the company.