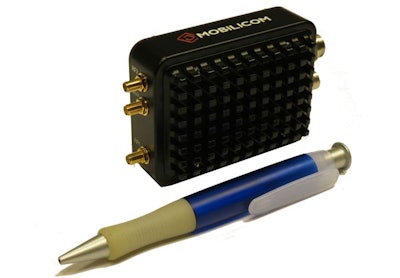 Israel-based Mobilicom has introduced the MCU-30, a miniaturized 4G mobile wireless IP communications device designed for public safety and homeland security that creates a secure and private broadband network.
The device supporting 4Mbps instantly without relying on existing wireless 3G/4G carriers. At 11 ounces and approximately 4-by-3-by-1 inch for the fully ruggedized version, these battery-operated units, which are approximately the size of an iPhone, are lightweight and small enough to be embedded into compact security cameras, sensors, control and monitoring device platforms and form an instant broadband network.
Yossi Segal, Mobilicom's vice president of research of development, said the MCU-30 is "a walkie-talkie on steroids."
With the MCU-30, first responders can connect to their command post, mobile units and unmanned aerial vehicles (UAVs) to transmit heavy data on the fly. The communications links are self-healing and resilient if a node were to be temporarily lost, according to the company.
The MCU-30 was created specifically for critical responders including public safety, homeland security personnel and disaster relief teams and has proven its performance in the world's harshest and most isolated border environments, as well as in remote rural and dense urban areas and non-line-of-sight (NLOS) situations.
The wireless Ethernet network connects to other nodes over six miles apart and acts as a gateway with seamless integration to any VSAT/3G/4G/ VHF/UHF network. The built-in GPS allows teams to monitor individual team member locations and anti-jamming technology ensures additional security.