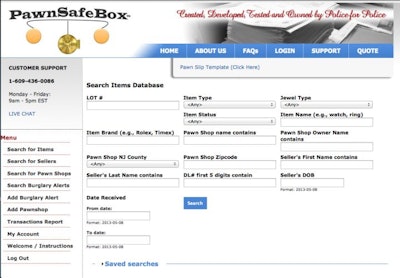 Pawn Safe Box has introduced its ARMD (Automated Regulatory Metals Database) software the help law enforcement track and locate pawned stolen jewelry and precious metals.
Police investigators at times must manually monitor pawn shops and precious metal dealers and collecting receipts of transactions. ARMD utilizes multiple descriptors and photos to enhance the ability to track and find stolen jewelry that make their way to pawn and precious metal shops.
The ARMD Basic service is free to law enforcement agencies and allows for searching the ARMD database. Upgrades to PRO and PRO+ allow investigators to send burglary alerts via e-mail into the secured system; obtain burglary information in near-real time; and search for stolen proceeds utilizing the eyes of law enforcement agencies pawn and precious metal buying locations.
The web-based software was developed by Sgt. Darren Vuzzo of the Marlboro Township (N.J.) Police Department with RPD Inc. Sgt. Vuzzo developed the software after reviewing his state's Uniform Crime Reports showing that burglaries in New Jersey increased from 17,455 in 2010 to 19,100 in 2011.
Nationwide, victims of burglaries suffered an estimated $4.8 billion in lost property in 2011. The average dollar loss per burglary offense was $2,185 and residential burglaries accounted for 74.5% of all burglary offenses. Of all items stolen, jewelry and precious metals were at the top of the list, according to Vuzzo.