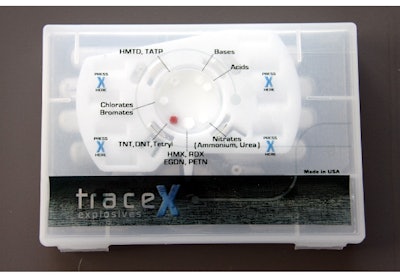 Morphix Technologies' new TraceX Explosives Kit aids in the detection of homemade explosive material in a single test without exposing the user or kit to contamination or dangerous chemicals, according to the company.
The TraceX Explosives Kit detects all the major families of explosive materials and their precursors with a single swab. It can detect up to nine explosive families in under three minutes using a simple color-change alert system, according to the company.
Each kit can fit in a pocket and comes in its own disposable protective plastic case. The TraceX Explosives Kit was developed by Morphix Technologies under contract from the U.S. Department of Defense and meets their requirements.