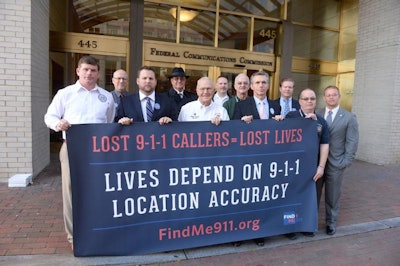 Law enforcement, public safety, and emergency response organizations held a press event outside the Federal Communications Commission (FCC) on Monday at the opening of a Commission workshop on e911 location accuracy.
At the event, they displayed a banner urging the FCC to quickly establish a reasonable, measurable level of location accuracy for all wireless emergency calls.
Data recently released by the FCC shows that, in some states and localities, upwards of two-thirds of wireless 9-1-1 calls are delivered to the emergency call center without accurate location data, leaving emergency responders unable to send help to people who cannot tell or do not know their locations.
"Some have tried to blame this problem on 9-1-1 operators for not 'rebidding' to request more accurate location information, but that is not fair to our 9-1-1 professionals," says Jamie Barnett, former chief of the FCC's Public Safety and Homeland Security Bureau and director of the Find Me 911 Coalition.
"Emergency personnel need accurate location data as soon as a 9-1-1 call arrives, both to ensure that it is routed to the appropriate call center and to respond to the emergency, particularly if the call is cut off before a location can be given. This is a growing national crisis, and we urge the FCC and carriers to work with us to adopt indoor location requirements and solve this dangerous problem."