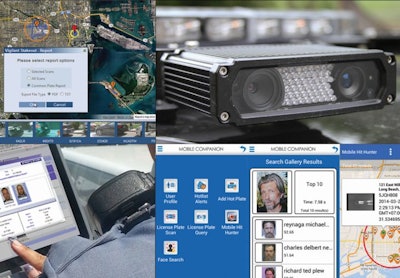 Vigilant Solutions has a new product bundling designed to allow law enforcement agencies of all sizes the opportunity to easily deploy – and afford – a comprehensive suite of technology solutions that would otherwise be unavailable in times of decreased budgets and grant funding. It's called Vigilant Solutions' Intelligence-Led Policing (ILP) Package.
Neil Schlisserman, Vice President of Sales, states "ILP is a completely new way of going to market for Vigilant. Every ILP package contains an agency-wide license to Vigilant's hosted LEARN analytic software, unlimited access in LEARN to our national database of over 2 billion commercial license plate recognition (LPR) detections, some number of LPR systems – mobile or fixed – to meet the needs of the specific agency, an agency-wide license to our FaceSearch facial recognition solution, as well as a new Mobile Companion smartphone application that encompasses all that ILP has to offer. The ILP packages represent over 75% savings for most agencies, when compared to buying these individual technologies on their own."
"We are developing exciting new technologies, and we are doing so in a very agile and responsive development environment," states Dr. Dinh Tien Son, Co-Founder and Chief Scientist. "The new facial recognition algorithms that we have developed use over 350 different vectors, or measurements, of the human face – essentially creating a fingerprint. There has been a great amount of development work invested into our facial recognition product, and we believe that it will prove itself as the most feature-rich, intuitive, and accurate solution available. Our new Mobile Companion was driven by a desire to combine LPR, LPR data and analytics, and facial recognition all into a very nice and easy-to-use mobile application that is representative of ILP. The availability of all of these features in a mobile application is truly unique, and enables officers in the field to do their jobs more safely and effectively."
For more information on Vigilant's Intelligence-Led Policing Packages, visit www.vigilantsolutions.com/products/ilp or email BeVigilant@vigilantsolutions.com.
About Vigilant Solutions:
Based in Livermore, California, Vigilant Solutions is an industry-leading pioneer of innovative intelligence solutions that help law enforcement protect officers, families and communities. For additional information, visit www.vigilantsolutions.com.