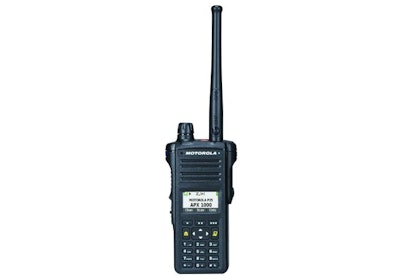 Motorola Solutions has announced the newest additions to its award-winning lineup of APX mission-critical two-way radios. The APX 1000 and APX 4000XE portable radios, along with the mobile APX Dual Radio, bring to 13 the number of ASTRO 25 radios in the APX portfolio designed with users in mind.
Law enforcement agencies will find a full array of ASTRO 25 features and functionality on the APX 1000 and APX 4000XE portable radios. The APX Dual Radio is a mobile radio solution well suited to public safety agencies wanting all-band operation. These new solutions provide users with Project 25 (P25) Time Division Multiple Access (TDMA) capabilities to deliver both voice and data messaging over a single wireless communications infrastructure.
The APX 1000 is a smaller, value-priced portable radio for small public safety agencies. The radio features intelligent lighting and renowned APX audio quality with dual microphone noise suppression technology. APX 1000 provides users with P25 TDMA capabilities, including enhanced battery life and advanced radio features and flexibility.
Motorola's robust series of APX radios for extreme conditions is rounded out with the APX 4000XE, which targets public safety agencies looking for a cost-effective portable radio designed to work in the harshest environments. This rugged and durable P25 TDMA-capable radio has an enhanced ergonomic control top for simplified use and includes dedicated control knobs for volume and channel selection. APX 4000XE features dual microphone noise suppression technology and supports Bluetooth.
"Since the Motorola APX series was launched in 2008, it has grown rapidly to meet the needs of everyone requiring mission-critical radio communications," says Brenda Herold, corporate vice president, Global ASTRO Products and Solutions, Motorola Solutions. "These P25 TDMA-capable additions to our APX lineup are further examples of how Motorola Solutions is redefining safety for mission-critical users and giving them optimum choice and flexibility. Every feature and function on these ASTRO 25 radios is designed with users in mind, from the rugged, easy-to-operate design, to the loudest, clearest audio. The end result is a robust series of radios providing the right device for the right user in every situation."