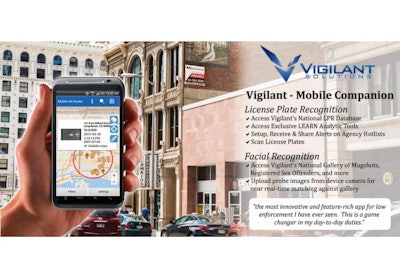 Vigilant Solutions will be unveiling its new Mobile Companion app at the 2014 International Association of Chiefs of Police (IACP) Conference in Orlando.
Tom Joyce, Vice President of Product Development and Retired Cold Case Commander from the New York City Police Department, states, "Vigilant has offered an app for the last several years that allowed users to scan a license plate and have it compared against agency-managed hotlists. While unique in the industry, this app had limited practical application for most officers. We wanted to create an app that EVERY officer could use – and we have accomplished that."
"The new Vigilant Mobile Companion app improves the return on investment that agencies are seeing from their investments in license plate recognition and facial recognition technologies by expanding the benefits out to everyone in the agency – patrol, investigative, detention, and other areas. The new Mobile Companion leverages many of the new analytic tools that Vigilant has released in its LEARN® product over the last couple of years. These easy-to-use analytic tools are made even easier and more accessible on a mobile device. In addition to the license plate recognition capture and analytic tools, the app also features Vigilant's powerful FaceSearch® facial recognition which analyzes over 350 different vectors of the human face. The FaceSearch element of Mobile Companion allows officers in the field to snap a photo of a willing subject and have their face matched against a gallery of over 13 million pre-populated mugshot and registered sex offender images as well as any other images that the agency uploads into its own gallery."
A sergeant from a large sheriff's department involved in the beta testing of the Vigilant Mobile Companion says, "We are making plans to deploy the new app to approximately 500 users here at the agency. The app is very intuitive and easy to use, and expands the value of our LPR program to our entire agency while also adding the capabilities of facial recognition. The new app improves the effectiveness and safety of officers in the field by making them more aware of their surroundings, and the ability to access LEARN from anywhere is also a very important element for the investigative users who aren't always sitting behind a desk. Also, as I am responsible for ensuring compliance to our Agency Policy, I appreciate the fact that every transaction on the Mobile Companion is fully audited inside of LEARN."
The release of the Vigilant Mobile Companion app follows Vigilant Solutions' announcement in recent months of its Intelligence-Led Policing (ILP) Package which offers agencies of all sizes the ability to afford and deploy complete turnkey license plate recognition (LPR) and facial recognition programs at combined savings of over 75%.
For more information on the new Mobile Companion app and Intelligence-Led Policing, visit www.vigilantsolutions.com/products/ilp or email BeVigilant@vigilantsolutions.com.
About Vigilant Solutions
Based in Livermore, Calif., Vigilant Solutions creates innovative intelligence solutions that help law enforcement protect officers, families, and communities. For additional information, visit www.vigilantsolutions.com.